On Saturday, July 17, my daughter and I were part of a hosted media group, invited to check out the Epcot International Food & Wine Festival. Since I had already shared an overview of what to expect this year, I thought I'd give you a few tips from my second time visiting.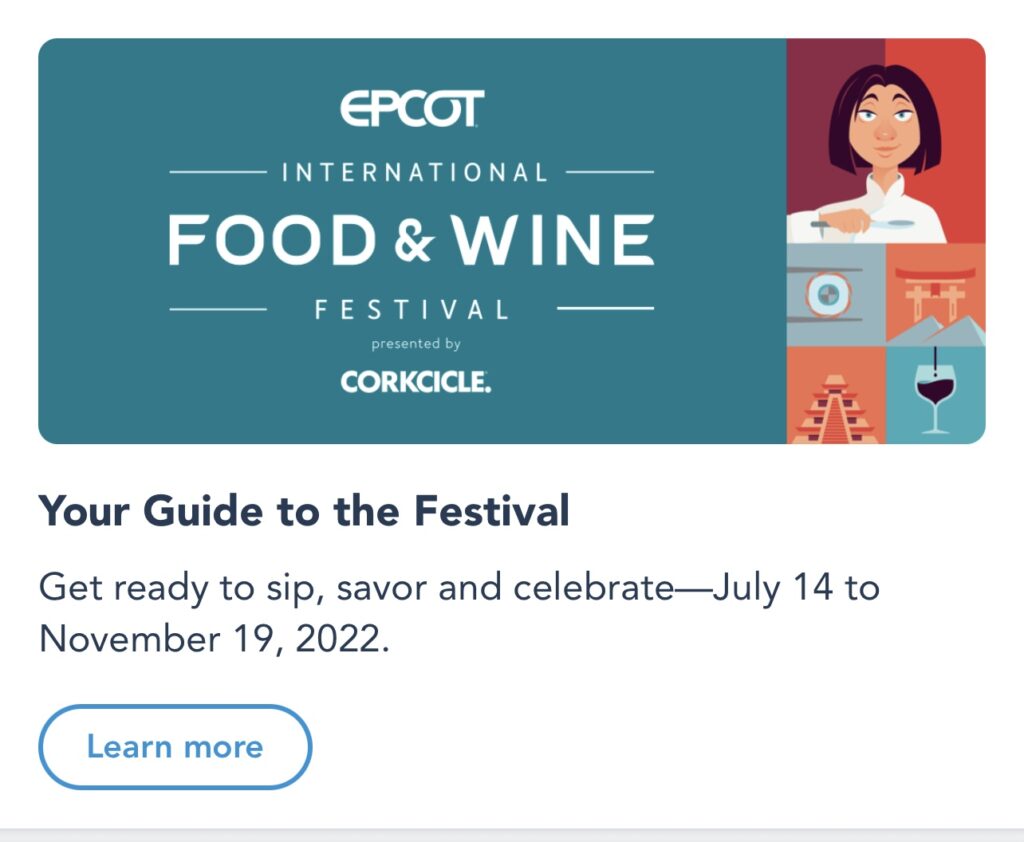 I'll start before you even enter the park. Go to the My Disney Experience App, scroll down on the first page, and look for the Epcot International Food & Wine Festival presented by Corkcicle section. Familiarize yourself with the menus and what is going on before you head to Epcot. Festivals can be overwhelming, but they don't have to be if you have an idea of what is going on.
Once you arrive, pick up a Festival Passport at the entrance. I know it's tempting to immediately take pictures, but don't forget about the Passport! Then again, if you do forget you should be able to get one at any Global Marketplace. On Saturday there were also Cast Members stationed in several high traffic areas, handing Passports to people who needed them. While the information in the physical Festival Passport is the same that you'll find in the My Disney Experience App, it's a lot more convenient than pulling out your phone whenever you need information. It's also a free souvenir, and if you participate in Emile's Fromage Montage you'll need a Passport to collect the stamps.
I have one more tip for before you head to Epcot; check the weather forecast! We're at the time of year when there is a good chance of rain and strong storms most days. You can now check the forecast down to the hour, and that can come in handy while trying to plan out your day. A radar app on your phone that will alert you to an approaching storm is not a bad idea either. It rained more than once when we were there, but because we knew the approximate times that the rain was going to start we stayed dry. That said, pack your rain gear. At this time of year I'll always have ponchos and flip flops in my bag, just in case.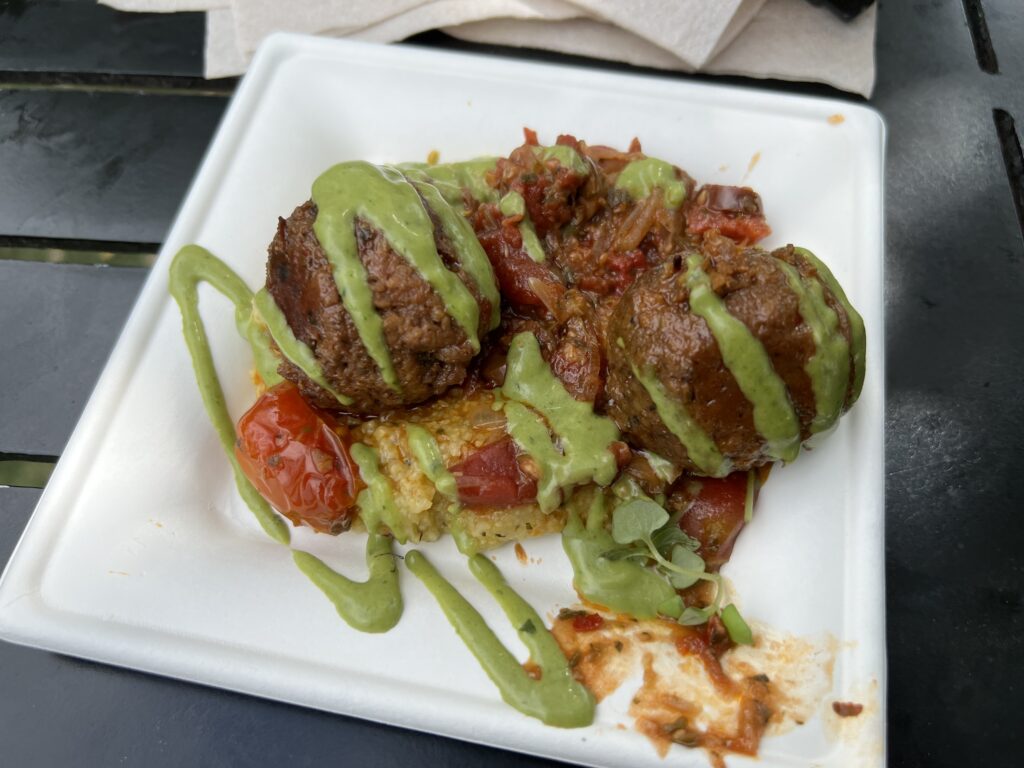 Now for some tips for after you arrive. Try something new! Many favorites at the Global Marketplaces are back, and of course you should get the things that you loved. That said, try at least one new item. Look over the menus ahead of time to get an idea of what is available. You might find a new favorite! Even if you don't love the dish, you'll have experienced one extra part of the Epcot International Food & Wine Festival.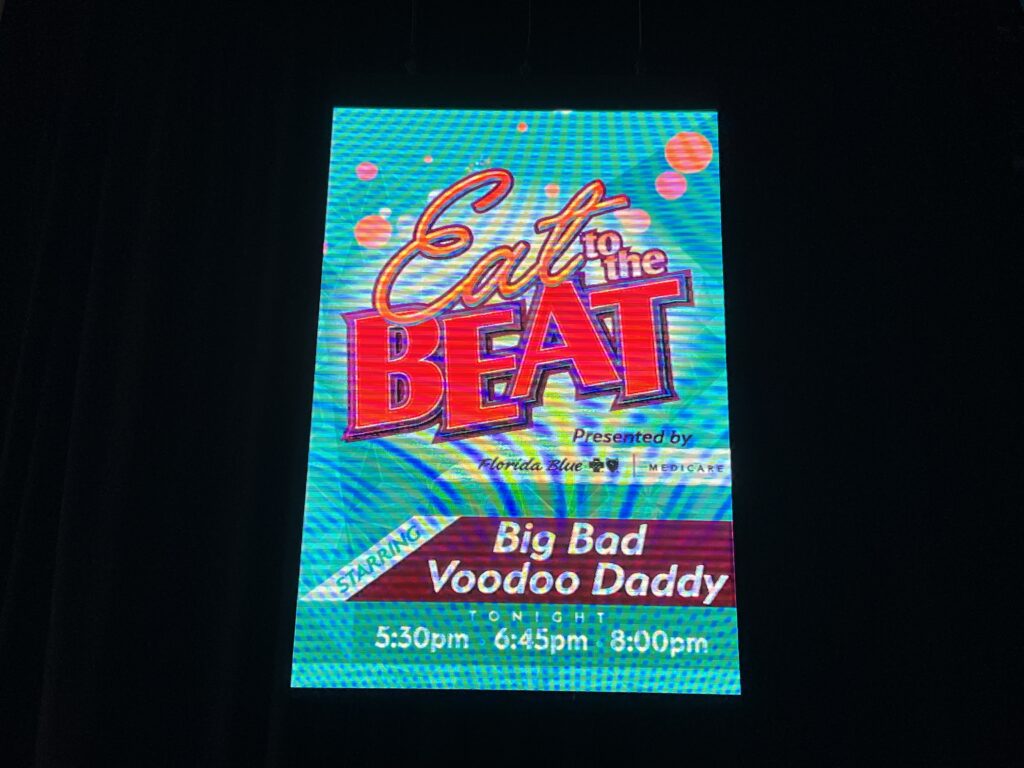 Include an Eat to the Beat Concert in your day. It doesn't matter whether or not you know the artist. Some of the best concerts that I've been to have been bands that I wasn't overly familiar with. Three days a week Eat to the Beat is featuring local artists that you have probably never heard of. Go anyway. After two years with no concerts, bands are thrilled to be playing at Epcot once again and it shows.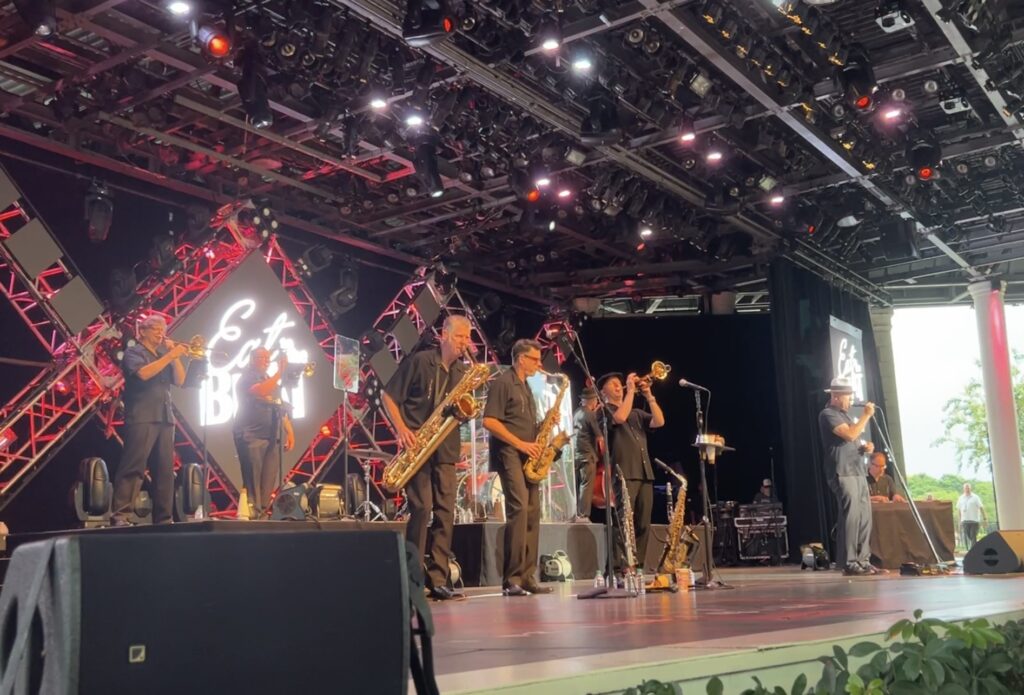 There are three Eat to the Beat Concerts each evening, or at least there are supposed to be. We grabbed seats for the 5:30 Big Bad Voodoo Daddy show, but it was canceled because storms were moving in. We attended the 6:45 show, and it was fantastic! The third show each evening takes place at 8:00. Again, keep an eye on the weather. The America Gardens Theater is outdoors, and Disney will empty it if there is lightning in the area.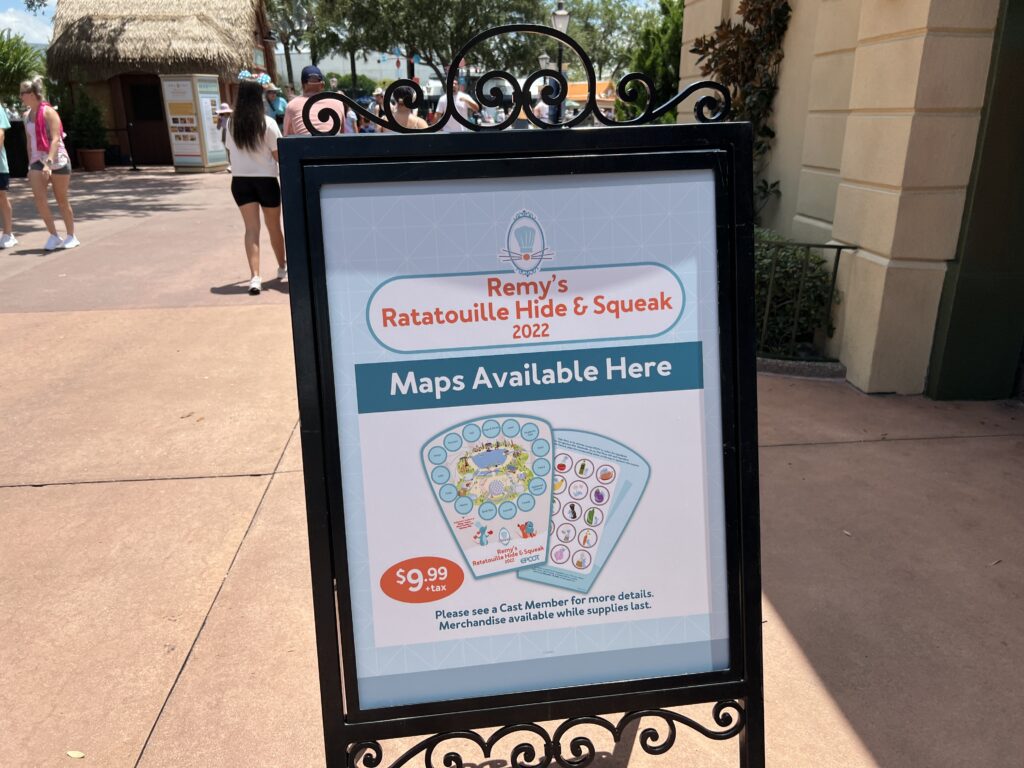 Remy's Ratatouille Hide and Squeak Scavenger Hunt has returned. Buy a map, search for Remy, fill up the map, and receive a prize. I've heard that the prize this year is your choice of collectible cup, but I didn't see them so I can't personally confirm it. You don't have to buy a map to search for Remy, though. It's fun to look for him as you walk through World Showcase. Whether or not you buy a map, it's easier to look for Remy during the day. World Showcase gets crowded at night, and you want to be able to pay attention to where you're going. Remy's Hide and Squeak isn't just for kids, plenty of childless adults will try.
I also have a tip about the Epcot International Food & Wine Festival merchandise. If you want to be able to find almost everything, check Creations Shop or Port of Entry. That said, you'll find all of the merchandise at the various booths throughout World Showcase. These are less crowded, although you'll only see part of the collection at each booth. If you're looking to save time and you plan to walk all the way around World Showcase, buy your merch at a booth.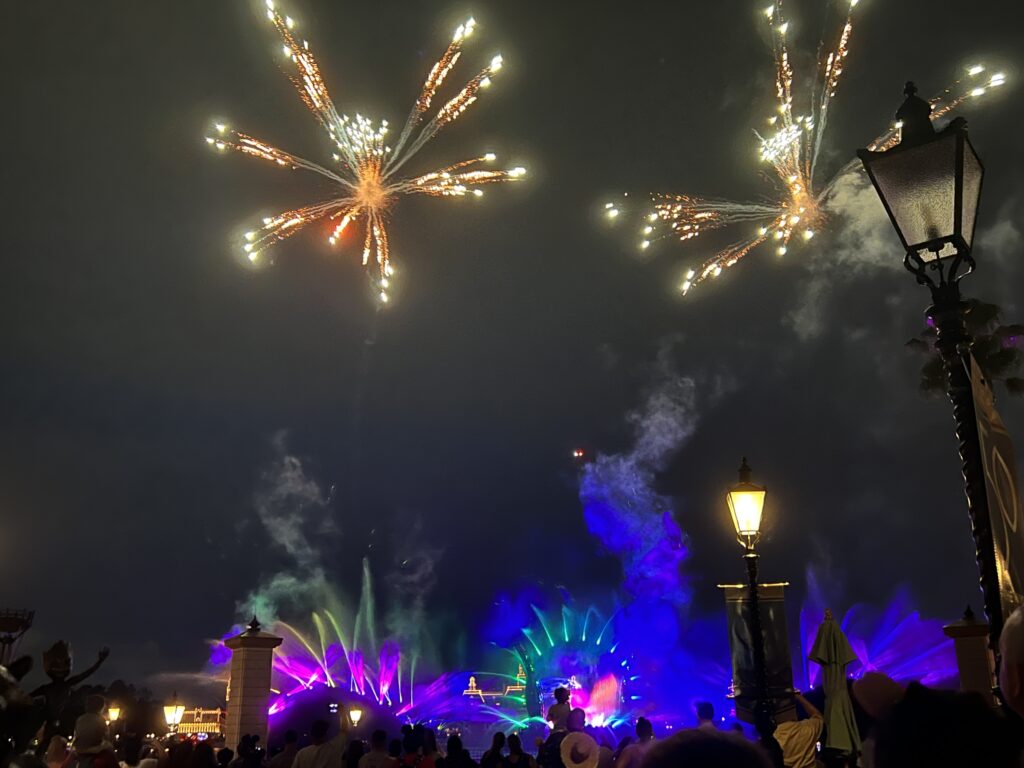 Don't skip Harmonious! I love this show more each time I see it. I know that IllumiNations fans are still bitter, but don't watch with an attitude. Harmonious is a gorgeous show if you give it a chance.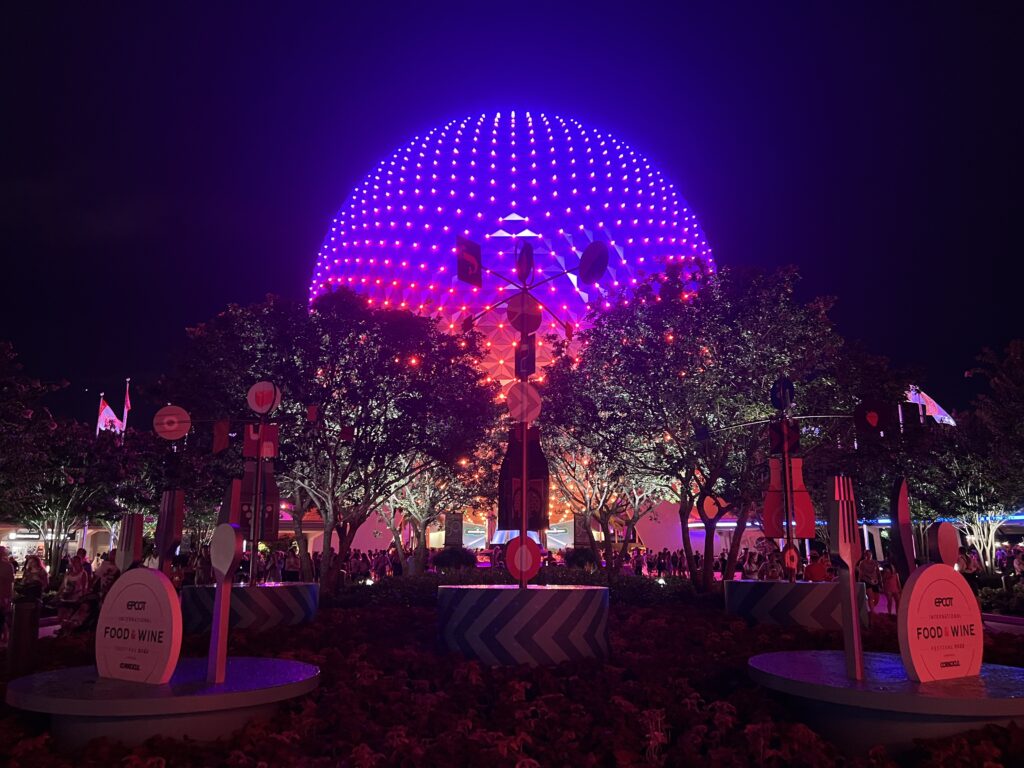 We didn't get to see the special Epcot International Food & Wine Festival lighting on Spaceship Earth. We planned to watch after Harmonious, but it didn't happen. At one point the lighting in the area changed for a moment, but Spaceship Earth remained the same. I'm glad we live close because I really want to see this. We already have plans to go back.
I'd like to thank Disney for inviting Disney Over 50 to the Epcot International Food & Wine Festival Media Day! We had an incredible time at an amazing festival.