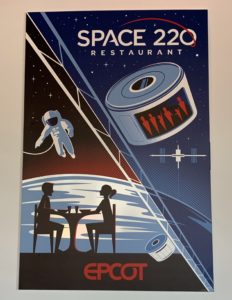 Soon you won't have to be a billionaire to travel to outer space! We don't yet have an exact date, but we now know that Space 220 Restaurant will open in the middle of September at Epcot! This promises to be one of the most creative restaurants at Walt Disney World. The idea is that you'll be dining 220 miles above Earth, but fortunately they will have the gravity turned on. Make sure you check out the video on the Disney Parks TikTok account. Here's the latest from Disney Parks Blog.
***
Space 220 Restaurant Lifts Off at EPCOT in September
by Zach Riddley, Walt Disney World Site Portfolio Executive, Walt Disney Imagineering
Are you ready for an out-of-this-world dining experience at EPCOT?  Then prepare for liftoff, because Space 220 restaurant at EPCOT is scheduled to begin service in mid-September… another milestone in the transformation of EPCOT underway at Walt Disney World Resort.
The Space 220 restaurant is located adjacent to the Mission: SPACE attraction, and takes fine dining to a whole new level.  Your immersive experience begins as you check in to the Space 220 Departure Lounge in Future World.  From here, you'll board one of two "Space Elevators" that will transport you in what seems like 220 miles above Earth to Centauri Space Station.  As you begin your ascent, you'll look down through a viewport to see EPCOT shrink away; looking up you'll see the Space Station come into view.
Once you've docked, you'll head through the Centauri Space Station-themed dining area. Inside the dining area, you'll experience a panoramic view of Earth below, and a variety of work and leisure activities taking place beyond the windows of the Space Station-themed restaurant.
And the views are just part of the experience. Our Disney Imagineers are excited to have created this experience for Executive Chef Marc Kusche to showcase his culinary wonders. The Space 220 restaurant menu will feature stellar dishes and gourmet recipes, with a two-course prix fixe menu for lunch, and a three-course prix fixe menu for dinner. The upscale, contemporary fare will bring new meaning to "the height of dining!" Rounding out the meal will be unique beverages – from fine wine to atmospheric cocktails and more.
EPCOT is defined by original stories that inspire. The Space 220 restaurant is another big milestone in the ongoing and historic transformation happening now at EPCOT, and will be a part of the celebration of the Walt Disney World Resort 50th Anniversary.
Keep checking the Disney Parks Blog, and follow me on Instagram @thezachriddley for more details about this one-of-a-kind dining experience at EPCOT as we prepare for liftoff in anticipation of "The World's Most Magical Celebration."