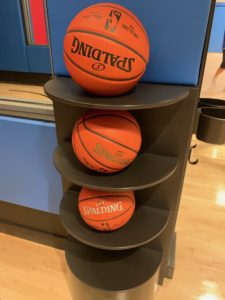 The NBA Experience opened at Disney Springs on August 12. I was there, covering the event. I thought I'd give you a few tips.
You do not need to love the NBA or WNBA in order to have a good time at the NBA Experience. I think that's my most important tip. You can be a total novice or not even like basketball at all, and still have fun.
Another tip is that you should try everything. There are 13 stations throughout the building, make sure that you don't skip any. You do not have to have basketball skills in order to participate. My favorite station was Slingshot, and I only made one basket. It was a lot of fun to try.
Talk to the Cast Members. They know the stations, and many requested to work at the NBA Experience because of their love for the game. They might have tips for the skills stations, or you could ask questions about basketball. It's a good group of people. You also might learn something. One example of learning; the sizes of the basketballs are color coded. Black lettering is NBA, gold is WNBA, and silver is junior.
Don't come hungry. There is no place to buy food or drink inside the NBA Experience. Being Disney Springs, there are plenty of restaurants close by. Your ticket is good all day, you can leave and return if you want. There are water fountains near the restrooms.
Take advantage of the picture opportunities! There are several of them. You can be the MVP, or get drafted to a team. These aren't your normal Disney type of picture spots, which is what makes them special.
There are plenty of Purell dispensers at the NBA Experience. Use them. You will be touching things at every station, you don't want to risk bringing home an undesirable souvenir.
My final tip might seem like a no-brainer, but I'm going to say it anyway. Go to the NBA Experience with a friend, or someone who you will have a good time with! I spent a good amount of time with a friend, trying the different experiences. It didn't matter if we made a basket, we just had a blast.
The NBA Experience is a fun new place to feel like a star. It's perfect for a rainy day, a day off, or just to try something new. Tickets are only $34, and $29 for kids ages three through nine. Since all of the stations are included in that price, you have to admit that it's a deal.