Yesterday was my Passholder Preview for Star Wars: Galaxy's Edge. My daughter and I have been to the California version, and I was curious about how things would be handled here. I know that the lands are the same, but that doesn't mean that there won't be differences. Once again, my daughter visited Black Spire Outpost with me.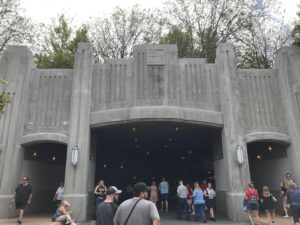 I'll get my minor disappointment out of the way first. I didn't like the way that allowing guests in was handled. We went under the reservation system in California, in fact we were there the first day. There everyone was given a color coded wristband, and when your time was over you needed to leave. They didn't do anything like that here in Florida. Cast Members checked us in to make sure that we had reservations, but that was it. Even though Passholders were allotted four hour slots, there was nothing to make anyone leave after the time was through. It felt so much more crowded than when we were in California, but it still wasn't packed.
Okay, that's my only complaint. Time to get on with the good stuff. The major difference that I noticed was that the colors on the buildings were a lot bolder here in Florida. I know that they won't stay that way for long. The sun will fade them soon enough. (My patio umbrella is proof of what the Florida sun can do.) I liked the bolder colors, hopefully they'll fade slowly.
For the Passholder Previews you needed to have a reservation in order to visit Oga's Cantina or Savi's Workshop. Those were long gone for our reservation time. Being local that's not a big deal, I can make a reservation later. We didn't mind skipping those this time. We also skipped Droid Depot. We have a reservation for that on August 29, so we're just going to wait.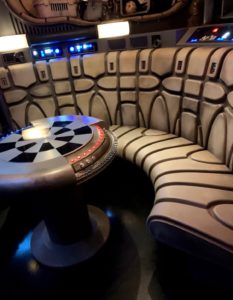 We did get to fly the Millennium Falcon twice. Smugglers Run gets cooler each time that I ride it! I still haven't been a pilot. I wish that the Cast Member who hands out the assignments would shuffle the cards before giving them out. I usually end up being an Engineer. Instead of spending the ride worrying about pushing the buttons, I just watch those out of the corner of my eye. If I can't be the pilot, I at least want to see what's going on "outside".
We bought both Blue and Green Milk at the Milk Stand. I had tried both before, but my daughter had only had the Blue. We had heard that they taste best mixed together (you need to ask for an extra cup). I still preferred the Blue by itself. I like the Blue Milk a lot, even though it gives me a brain freeze. There was a bit of a line for the Milk Stand, but it moved quickly.
We had dinner at Docking Bay 7. We're both vegetarian, so we ordered the Felucian Garden Spread. (The other plant based entree is available only in California.) It's three Kefta "meatballs" with hummus and pita bread. This dish is full of flavor and really filling. It is what most people would call "only a tad bit spicy", which made it very spicy for me. It's not that I don't like spicy foods, I can't tolerate them. If you like heat you will have no idea what I am talking about with this dish, you'll think it's mild. I do wish that Disney would offer the other plant based dish in Florida. It's nice to have options.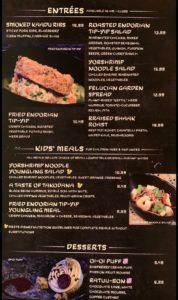 One thing that happened during our Preview here that we didn't have in California is rain! It was a typical Florida storm; the sky opened up and it looked like the end of the world, but then it stopped as quickly as it had started. There's more shade in Galaxy's Edge than there is in Toy Story Land, but not all of that shade offers protection from the rain. We were walking by Ronto's Roasters when the rain started, so we took shelter there. We weren't far from Smugglers Run, so when we could, we made a run for it (pun intended).
Speaking of Smugglers Run, one thing surprised me our second time. There was a lot of water on the ground in the queue after the rain. At the beginning we were still outside but it was covered, but the water all seemed to gather at our feet. Maybe you should go ahead and buy those waterproof shoe covers that I recently told you about.
Rise of the Resistance is not yet open. Right now in the Resistance Camp you can see Chewie and a Villager working on an X-Wing. Rey was also around. There are some great picture opportunities in the area, and there were PhotoPass photographers on hand.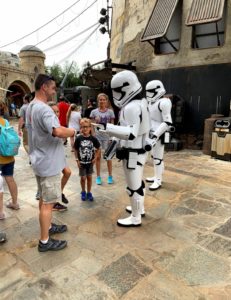 You will also find the First Order on Batuu. There were Stormtroopers in pairs, interacting with the guests. There was a girl who was maybe five years old dressed as Rey, and they had a great time "interrogating" her. (She seemed to love it.) There was also a boy who was about the same age who was dressed as a Stormtrooper, and they were giving him tips and advice. Kylo Ren was around, but I only saw him once. I also saw Vi, the Galaxy's Edge character who likes to give a hard time to the First Order.
There was one other difference that I noticed between the Florida and California versions. The Villagers in Florida were great, none of them did anything wrong. But the Villagers in California are exceptional! I think that part of it has to do with location. Anaheim is outside of LA, which is filled with actors. While being a Villager may not be as glamorous as being in Star Wars, it is a chance to become a character and get paid for it. I think that the Villagers in Anaheim are enjoying that more. Again, no one did anything wrong here in Florida, they were just that good at Disneyland.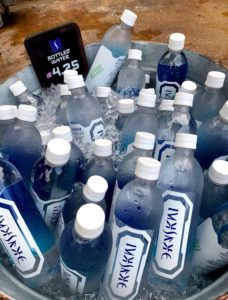 One totally unexpected thing happened to both my daughter and me when we left. We walked out of Galaxy's Edge and onto Grand Avenue, and we both experienced a "woah!" kind of moment. It really felt as if we had been transported to another world, and then returned. We didn't notice that in California. I don't know if it's because we know Disney's Hollywood Studios so well, or if it's because when we left Galaxy's Edge in California we were on a tight schedule and were worried that we would miss our plane. Whatever the reason, it was one of my favorite moments of the day.
I spent a good part of my Galaxy's Edge Preview just taking it all in. Since this is in my backyard, I will have plenty of time to return and really feel at home. I look forward to sharing that journey with you.