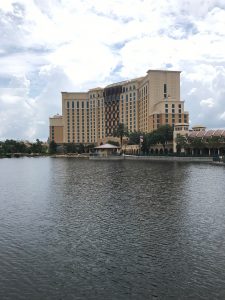 For what seems like forever I've been watching them build a large tower at Disney's Coronado Springs Resort. That tower is called Gran Destino Tower, and it is now officially open. It is also gorgeous. I was invited to spend a night and cover the opening for Disney Dining, and it did not disappoint.
Here's the link to my full article for Disney Dining. Let me tell you, though, this is a property that you should consider staying at. Disney's Coronado Springs Resort is a Moderate Resort, and honestly I think it is a great value. The rooms are spacious and tastefully done, and there are plenty of modern conveniences.
Even if you aren't staying at Disney's Coronado Springs Resort, consider heading there for the evening. You might want to have dinner at Toledo – Tapas, Steak & Seafood. The menu is mostly steak or seafood, but there are other choices as well. If you don't want a meal, stop by Dahlia Lounge instead. It's 16 floors up, and there is an outdoor deck that has incredible views. Toledo is also on the 16th floor and has great views, but there's no outdoor deck.
Since I'm local, I don't stay at Walt Disney World Resorts very often. I'll visit the properties, but staying overnight was a real treat. A special shout out to the Cast Members. I think that they were the friendliest group of Cast Members that I've encountered in all my years of being obsessed with Disney. I highly recommend Gran Destino Tower at Disney's Coronado Springs Resort. It has the feel of a Deluxe Resort, without the price tag.