There have been two major enhancements at Disney's Animal Kingdom. The first involves Rivers of Light. The popular nighttime show has been given an upgrade. It is now called Rivers of Light: We Are One. A good part of the show remains the same, but now there are Disney characters, including some from The Lion King, added into some of the scenes. The music has been updated as well. I think that Rivers of Light is an underrated show, and I look forward to seeing the new version.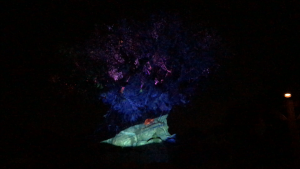 The second upgrade is another one that I am excited about. Tree of Life Awakenings has been given a theme that will celebrate the 25th anniversary of The Lion King. This will only run through September 30, so don't put it off, thinking that you'll be able to just catch it the next time that you're at Walt Disney World.
These are just a couple of ways that you can celebrate the anniversary of the animated classic at Disney's Animal Kingdom this summer. There are special Magic Shots, yummy treats, and of course the Hakuna Matata Time Dance Party. It's hard to believe that it's been 25 years, and I definitely think that the anniversary is a great reason to celebrate!