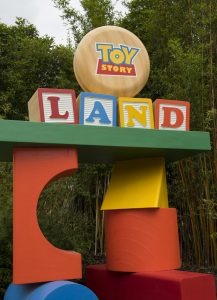 On April 23, I had my second chance to get a peek at Toy Story Land. This time we didn't get to go all the way in, because there was lightning in the area and it wasn't safe for us to go into a construction zone. We did get to stand in a Cast Member only area, and we could see parts of the new land. 
Things are progressing well on Toy Story Land. From where we were standing, we could see that a lot of work has been done on the Alien Swirling Saucers area. Parts of Woody's Lunch Box could also be seen. There was a lot of color in the area, which wasn't there a month ago. The marquis is now in place, and additional Tinker Toy lighting fixtures could be seen.
If you want to get excited about Toy Story Land, it's easy to do. Just head to Toy Story Playtime. There are three different Toy Story themed games on the site. One word of warning, Slinky Dog Stretch is addictive.
Toy Story Land is set to open on June 30 at Disney's Hollywood Studios.