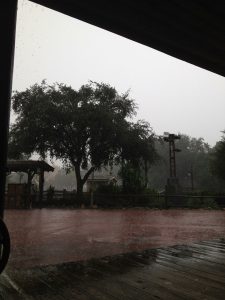 As I write this, it is raining here in the Sunshine State. We had thunder for a good part of the morning, and there is a strong chance of precipitation the rest of the day. We don't get days like this all that often, usually it's quick storms that move out almost as fast as they moved in. That does not mean that rainy days don't happen. Does that mean that you should avoid the Walt Disney World theme parks if the rain won't stop? Of course not. If you are prepared and don't mind getting a little bit wet, a rainy day could be the best day of your vacation.
When a quick storm comes, people clear out until it passes, but then the crowds usually return. On a day that it is expected to rain all day, things are a little bit different. You won't have as many locals hitting the parks, plus there are plenty of vacationers who will use that day to sleep in and then just hang out at their resort. That means that there will be shorter lines for just about everything.
One thing to remember if you're heading to the theme parks in the rain is that many of the outdoor rides will close, especially if there is lightning. You don't have to hear thunder in order for the rides to shut down, Cast Members keep an eye on the radar and will make the call if a storm gets close enough. If a ride that you have FastPass+ for closes temporarily, check your email. You'll receive instructions on what your options are.
My favorite park on a rainy day is the Magic Kingdom, because there are plenty of indoor rides and attractions. Space Mountain, Buzz Lightyear's Space Ranger Spin, and Mickey's PhilharMagic are just three of the possibilities. Another thing that I think is fun to do on a rainy day is to get character pictures. They're amusing to look back on when everyone is soaked.
I often recommend bringing cheap ponchos that you can pick up at a dollar store with you, but those won't cut it for rain that lasts more than a couple of hours. You still don't have to spend a fortune on ponchos, but you will want some that are better quality. If you have a car you can find some that aren't expensive at pretty much any store in the area. If you don't leave property, ponchos are sold in most stores at Walt Disney World. On a rainy day they will move the display front and center so that they are easy to find. I bring a plastic shopping bag with me so that I can easily carry the ponchos when we're not using them. Holding a wet poncho is not a lot of fun.
One thing that you might not need on a rainy day is an umbrella. This is really up to you, but it can be inconvenient to pull out and then put away repeatedly throughout the day. If you have ponchos they might be enough. Of course there is nothing wrong with using an umbrella, it's totally up to you.
Make sure that you have a few plastic zipper bags with you to protect your electronics. Even if your phone is supposed to be waterproof, you still don't want to test it out. Speaking of your phone, you'll want to have the My Disney Experience App downloaded if you hadn't done that already. That will allow you to keep track of Wait Times and see which rides haven't closed because of the rain.
One thing that I will always bring with me when it's raining is a pair of dry socks. I'll keep them in a plastic zipper bag, and then when I can't stand how wet my socks have gotten I'll pull them out. The wet socks then go in the zipper bag. Some people will wear flip flops or another type of shoe that holds up to the water, but I don't like to do that because of all the walking involved at the theme parks. You'll walk a lot, even on a rainy day.
The most important thing to remember if it's raining is to have fun! Do not let a rainy day ruin your vacation. Instead, embrace the rain, and play in the puddles like you did when you were little. A rainy day at Walt Disney World is still more fun than a sunny day back home.