At the end of February I shared that Disney Legend Burny Mattinson had passed away. Sadly, another Disney Legend has died. Roland "Rolly" Crump passed away on March 12, 2023, at the age of 93. If you've ridden "it's a small world" at Disneyland, the clock in the front was Crump's doing. In Florida he worked extensively on EPCOT Center. He also was on the animation team for many Disney classics. Here's a beautiful tribute to Rolly Crump from The Walt Disney Company.
***
Remembering Disney Legend Rolly Crump
Disney Legend Rolly Crump, an Imagineer who was instrumental in the design of early Disneyland and Walt Disney World attractions, passed away Sunday in his Carlsbad, California, home. Crump was 93.
Described as a "true original," Crump brought his artistic talent to a multitude of Disney projects, most famously during his time at Walt Disney Imagineering. He served as a key designer for Disney's attractions at the 1964-1965 New York World's Fair, as well as beloved classics like Haunted Mansion and Walt Disney's Enchanted Tiki Room.
Born Roland Fargo Crump on February 27, 1930, in Alhambra, California, Crump always had his eye on The Walt Disney Company. First, Crump took a pay cut as a "dipper" in a ceramic factory to join The Walt Disney Studios in 1952—then, he started building sewer manholes on weekends so he could pay his bills and continue working at Disney. His early work at Disney Animation included serving as an in-between artist and (later) assistant animator, contributing to Peter Pan (1953), Lady and the Tramp (1955), Sleeping Beauty (1959), and others.
In 1959, he joined show design at WED Enterprises (now known as Walt Disney Imagineering, or WDI) and became a key designer from some of Disneyland's most iconic attractions and shops, including the Haunted Mansion, Walt Disney's Enchanted Tiki Room, and Adventureland Bazaar. While helping design "it's a small world," he created the famed Tower of the Four Winds marquee. He continued to design striking entrances for "it's a small world" when the attraction moved to Disneyland in 1966; the larger-than-life animated clock at its entrance, which sends puppet children on parade with each quarter-hour gong, is straight from Crump's imagination.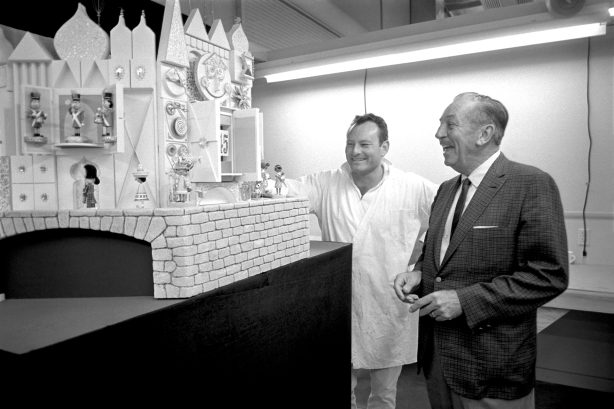 His unique nickname of "Rolly" was born during his time with Disney. Crump recalled Walt's struggle to recall his real name: "I started off as Roland, then I was 'Owen' for a while, and then I became 'Orland,' but of course, I would answer to anything he called me," he remembered, laughing. "But the crowning glory was when he called me 'what's his name.'" Eventually, Walt landed on "Rolly" as a nickname, and so Rolly he remained.
His peers at Imagineering considered him an accomplished collaborator—a skill that his son, Chris Crump, took note of as he followed in his father's footsteps to join WDI. As Chris explained, "What I observed was that Rolly had really great relationships with the people that he worked with. It is important to know the skills of your co-workers, and to trust and respect them. I watched Rolly interact with his peers and was impressed with how well-respected he was."
As the world of Disney Parks expanded, so did Crump's creations. Besides working on the initial designs for the Magic Kingdom at Walt Disney World Resort in Florida, he contributed to EPCOT Center (later known as EPCOT) after a brief period away from the company. Crump served as project designer for The Land pavilion and developed concepts for the Wonders of Life pavilion, later redesigning and refurbishing The Land and Innoventions. He also participated in master planning for an expansion of Disneyland until 1981, when he again left Disney to design for other companies—and to launch his own firm, the Mariposa Design Group, developing an array of themed projects around the world, including an international celebration for the country of Oman.
Crump "retired" from The Walt Disney Company in 1996, but continued to work on a number of creative projects. He published an autobiography, It's Kind of a Cute Story, in 2012.
Crump's career has served as an inspiration for many future artists and Imagineers—including Disney Legend Marty Sklar. "Rolly's very personal, sometimes outrageous art and design style continue to flow," Sklar once said, "and the many collectors of his art, including me, continue to be inspired by his talent and his sense of humor."
Crump, who was inducted as a Disney Legend in 2004, is survived by his wife, Marie Tocci; his children Christopher, Roxana, Theresa; and three grandchildren.