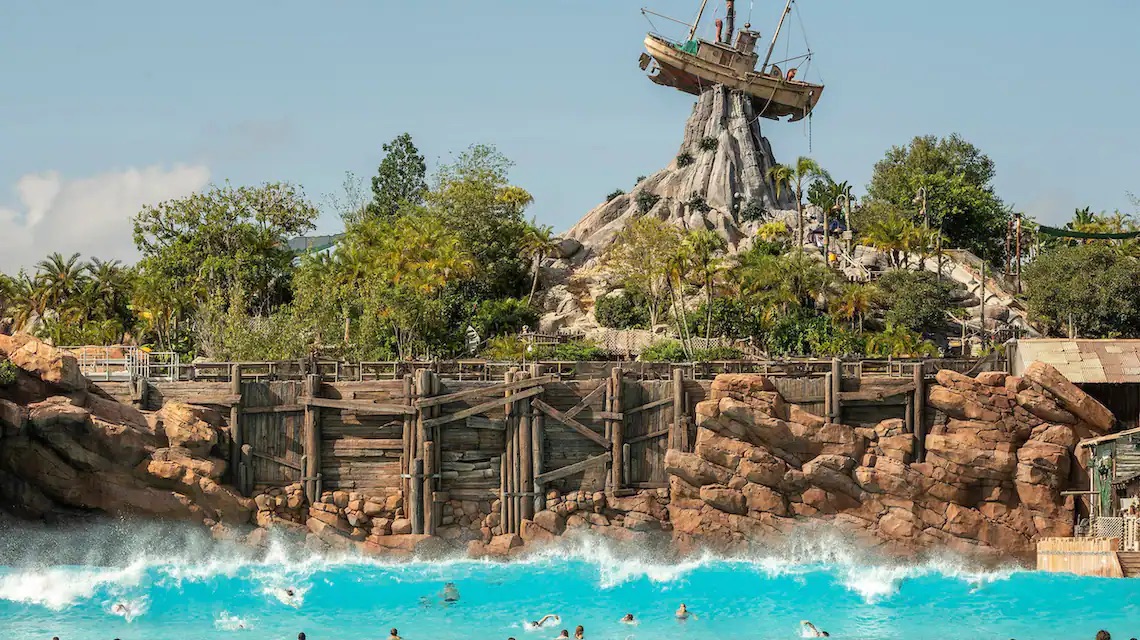 You may have heard that Disney's Typhoon Lagoon will reopen on March 12. I've seen that posted on several sites. Since I could find no official information confirming that date, I decided to hold off on the announcement here on Disney Over 50. It's a good thing that I did, because the actual reopening date will be March 19! Here's the official information from Disney Parks Blog, which includes information on Disney H2O Glow After Hours.
***
5 Totally Tropical To-Dos When Typhoon Lagoon Reopens March 19
by Halle Szumigala, Public Relations Intern, Walt Disney World
Hang loose! As the weather gets warmer and Spring Break approaches, I can't think of a better place to spend my day than at Disney's Typhoon Lagoon Water Park. We are excited to share that the tropical-themed park will reopen to guests on March 19, 2023.
Adding to this oasis of fun, the popular specially-ticketed event, H2O Glow After Hours, will also return this May and will be the high-"light" of your summer! Don't miss out: Tickets for the event go on sale starting tomorrow, so you'll want to be sure to "glow" and purchase your ticket!
Here are five can't-miss ways to enjoy Typhoon Lagoon when it reopens later this month:
1. Light up the Night at H2O Glow After Hours
Glow the night away during H2O Glow After Hours at Typhoon Lagoon starting May 20, complete with an electric DJ dance party, complimentary ice cream treats, popcorn and select beverages, a 'glow'-rious atmosphere and beyond.
H2O Glow After Hours allows families to spend time at Typhoon Lagoon for several hours after it closes, giving quick access to favorite attractions throughout the illuminated park. Be sure to get your tickets tomorrow for a night to remember at the water park!
2. Can't-Miss Thrilling Attractions Await
For a thrill-filled day at Typhoon Lagoon, check out guest-favorite attractions like the action-packed 400-foot-long "water coaster" Crush 'n' Gusher or Humunga Kowabunga, which offers three high-energy body slides to plunge guests down the steep incline of Mount Mayday.
Families can join the fun, too, with the fast-paced, adrenaline-filled family raft attraction, Miss Adventure Falls. Little ones can adventure down mini waterslides in the kid-friendly Ketchakiddee Creek.
3. The Perfect Place to Chill
This tropical paradise is the ideal spot to kick back on your trip to Walt Disney World Resort, with plenty of spaces to unwind. Sunbathe with ease as you float down the scenic lazy river, Castaway Creek, for a peaceful tour of the entire park.
Beachcomber Shacks offer a private, outdoor oasis away from the buzz of the rest of the park for guests to relax. These spaces are available for guests to rent during their visit to Typhoon Lagoon and offer perks like cushioned seating, towels, a locker and souvenir reusable mugs to make you feel like you're in paradise.
4. Devour Delicious New Food & Beverage Offerings
Cool off with new sweets and treats that are perfect for a day at the water park, including the Pineapple Upside Down Cone available at Happy Landings and a Barbeque Chicken and Grilled Pineapple Flatbread available at Leaning Palms.
Also, the exclusive Typhoon Tilly Sipper will be available for a limited time as an all-day, refillable fountain beverage offering. Adults can indulge in the Kungaloosh Kooler, a Strawberry DOLE Whip swirled with a mixture of rum, orange juice and blackberry brandy floated with Strawberry Fanta.
Remember that delicious Moana Cone from World Princess Week? The dessert featuring DOLE Whip Strawberry swirled with vanilla is back for guests to enjoy, as well as the popular Hei Hei Cone made of DOLE Whip Pineapple and Raspberry available at Snack Shack.
5. Surf's Up at the Surf Pool
Did you know that the Typhoon Lagoon Surf Pool is the largest wave pool in North America? With a picturesque view of the iconic Mount Mayday, guests of all ages can catch gnarly waves while body surfing in the water.
For those who want to test their skills even further, hang 10 with a private surf session in the Surf Pool. Open Surf will also be available this year for surfers or small groups that want to surf, but do not need the entire pool to themselves. No matter what your experience level is, spend time riding waves before or after the park closes to polish your skills.
Be sure to add Typhoon Lagoon to your itinerary the next time you visit Walt Disney World and don't forget to purchase your H20 Glow After Hours tickets tomorrow. We'll see you at Typhoon Lagoon starting March 19!