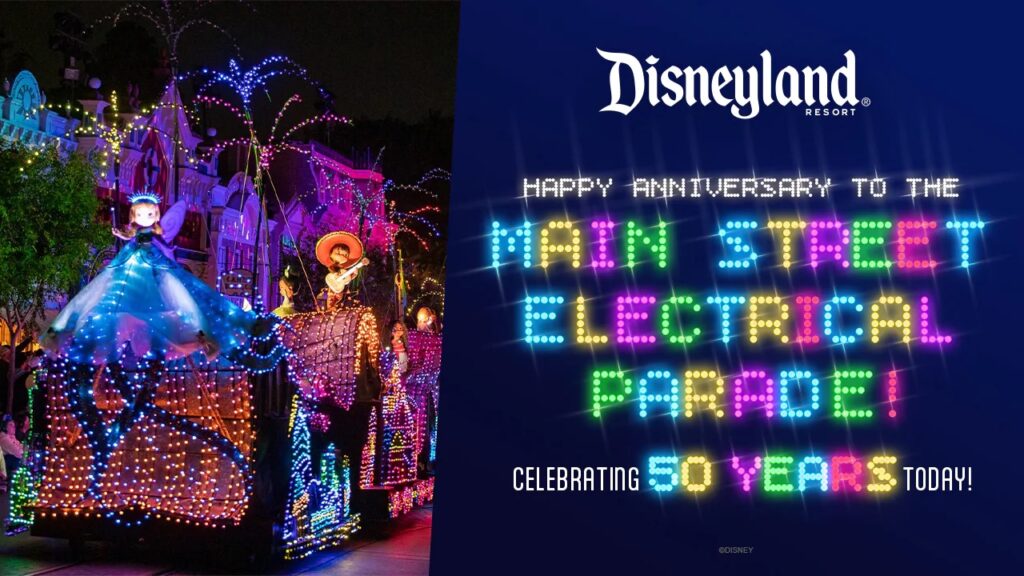 Today, June 17, 2022, is the Golden Anniversary of the best parade ever! Main Street Electrical Parade debuted on June 17, 1972 at Disneyland (now Disneyland Park). The parade features colorful floats, characters, and a song that will get stuck in your head…but you won't mind. It's filled with lights and joy! I saw Main Street Electrical Parade for the first time on a family trip when I was just a padawan. The parade was still brand new, we saw it that first summer! Main Street Electrical Parade will always be my favorite parade. It means happiness to me.
Disney Parks Blog has commemorated this important occasion. Back when I first saw Main Street Electrical Parade, there were no cell phone cameras and social media. I don't know of one picture that my family took. That's one of the things that I love about this post. It features "then" and "now" photos. I hope that you enjoy them as much as I do!
***
Disneyland Resort Celebrates the 50th Anniversary of the 'Main Street Electrical Parade'
by Kelsey Lynch, Public Relations Director, Disneyland Resort
What was new at Disneyland Resort on June 17, 1972? Why, the "Main Street Electrical Parade" of course!
Fifty years ago this evening, the unforgettable sights and sounds of this beloved nighttime spectacular first made its way down Main Street U.S.A., in Disneyland park. Over the past five decades, multiple generations have come together to enjoy the "Main Street Electrical Parade." Many who first enjoyed the gleaming gathering as children have since enjoyed sharing it with their own children…and in some cases, grandchildren!
Whether your favorite is Mickey Mouse and the marquee drum, the glittery spins of the whirly bugs or the luminous court dancers, there's no shortage of reasons why this sparkling spectacular has captured guests' hearts for 50 years.
How fun are these THEN and NOW photos?!
For a limited time, you can share in the shimmer once again at Disneyland park.
Don't miss your chance to see the "Main Street Electrical Parade" travel along the parade route in Disneyland with the all-new, enchanted grand finale sequence honoring its 50th anniversary. The new finale celebrates the universal theme of togetherness, uniting more than a dozen Walt Disney Animation Studios and Pixar Animation Studios stories. As the grand finale passes by, guests along each side of the parade route see a different set of stylized scenes from classic and contemporary favorite stories such as "Encanto," "The Jungle Book," "Raya and the Last Dragon," "Aladdin," "Coco," "Mulan," "Brave," "The Princess and the Frog" and more. These stories are interpreted in thousands of sparkling lights and new music, weaving together arrangements of favorite songs from the represented stories – all performed in the original musical style of the "Main Street Electrical Parade."
Speaking of music, the parade's theme "Baroque Hoedown," might be considered one of its most memorable aspects. Composers Jean-Jacques Perrey and Gershon Kingsley wrote the iconic synthesizer piece in 1967. The song was later adapted for the parade's premiere, interwoven with classic Disney themes to create the now-iconic parade soundtrack.
Join us in celebrating 50 years of nighttime magic and imagination. Happy anniversary, "Main Street Electrical Parade"!