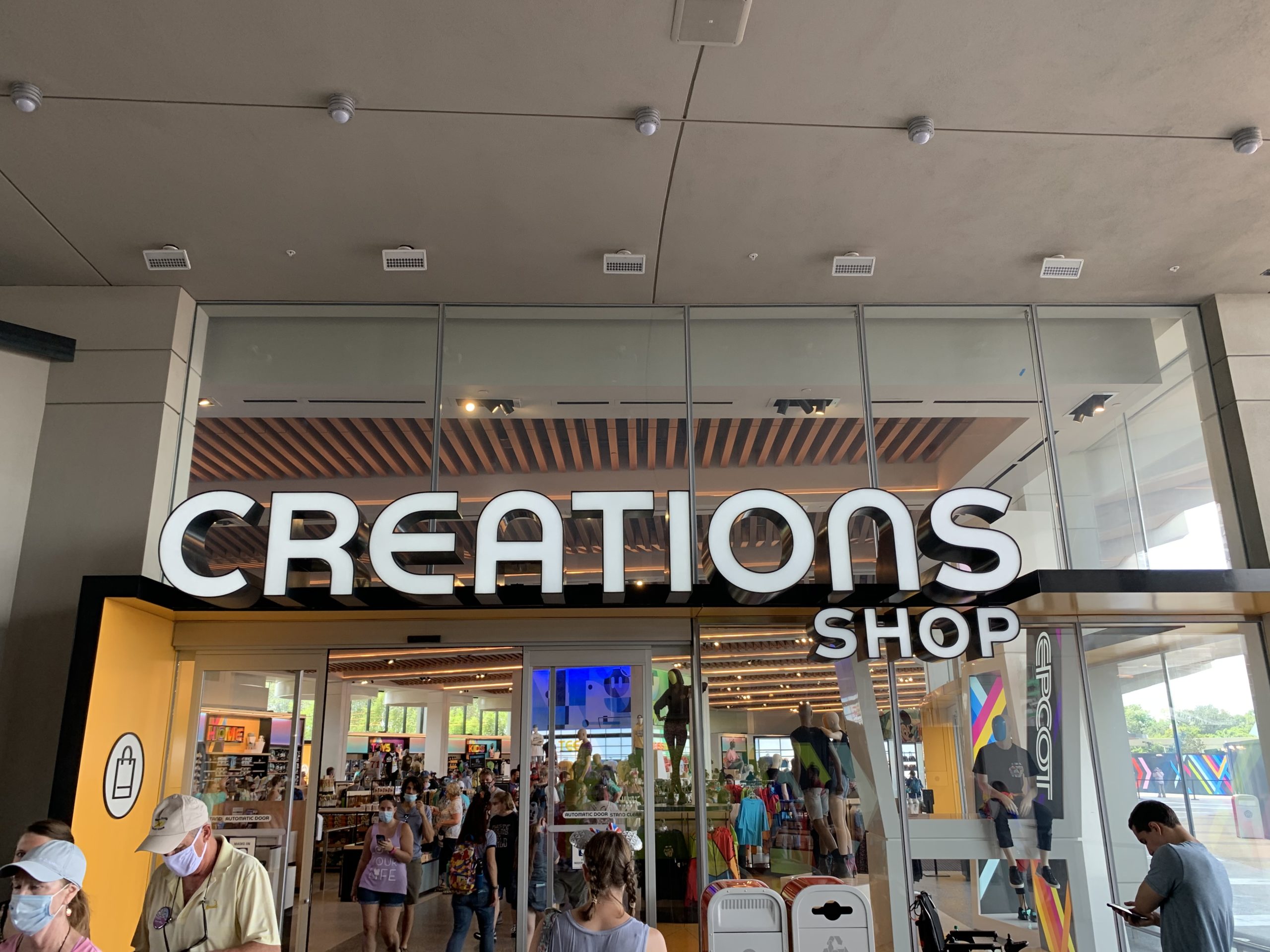 Epcot has been without a flagship store since Mouse Gear closed in 2019. Sure, there was a temporary Mouse Gear location, but it was small and nothing special. With COVID restrictions there was usually a line to get in. On September 15, the replacement for Mouse Gear opened. It's called Creations Shop, and you will want to stop by!
My daughter and I arrived a little before 1:00 on opening day. I guess we hit it at the right time, because there was no line. (A friend told me that earlier in the day there had been a wait.) I like the new store a lot. It is quite a bit smaller than the original Mouse Gear, but it is spacious. With the open floorplan it reminded me of a smaller version of the refurbished World of Disney at Disney Springs. It's bright and well lit. There is plenty of Epcot merchandise, as well as your typical Disney souvenirs.
My favorite part of Creations Shop isn't for sale. The artwork is spectacular! There are two giant murals that are all about Mickey. There are also ten sculptures that feature the world's most famous mouse. They're a fun extra.
Next to Creations Shop is the new version of Club Cool. While we didn't have to wait to get into the store, the same can't be said here! There was a long line, we waited for 45 minutes to be able to get our free international soda.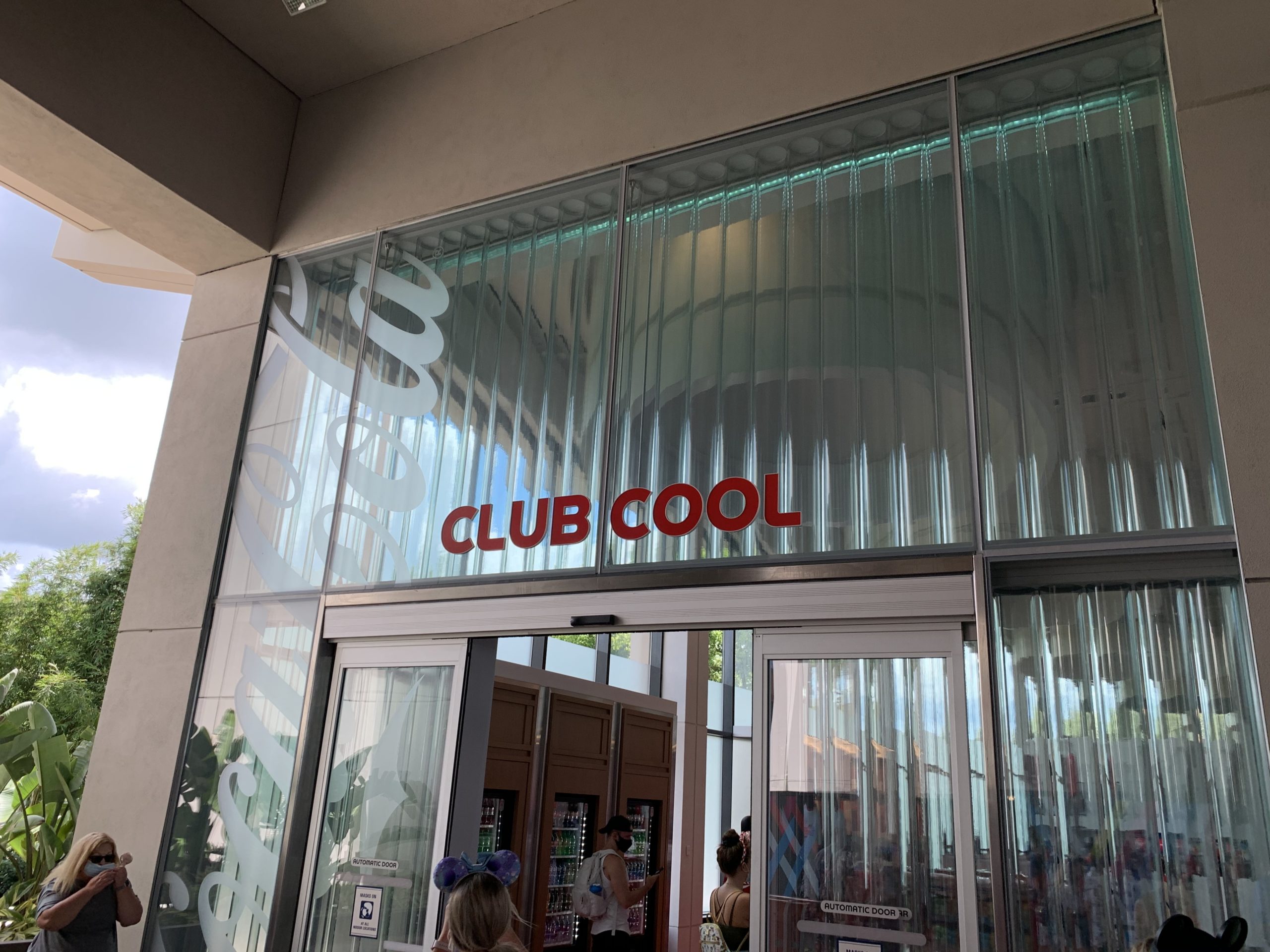 The new layout makes more sense than the original version of Club Cool. Instead of being placed in the middle of the room, all of the soda stations are along one wall. It was one group at a time at each station, a Cast Member let groups know when it was their turn. When you got to the station you could take off your mask. (They're required indoors at Walt Disney World unless you're eating or drinking.) The process hasn't changed. You'll grab a small cup and fill it with one of eight different choices. The machine does not turn off when the cup is full, you need to hold it down to get the desired amount.
The only flavor that has returned is Beverly. It's from Italy, and because it's bitter people love to use it to trick their friends. The other choices are Bon Bon Anglais from Madagascar, Country Club Merengue from the Dominican Republic, Minute Maid Joy Apple Lychee from Korea, Royal Wattamelon from the Philippines, Smart Sour Plum from China, Sprite Cucumber from Russia, and Viva Raspberry from Moldova.
I'm not a big soda drinker, I don't like carbonation. I'm a bit disappointed that all the choices are carbonated this time around. I did still try all eight of them. My favorite was Country Club Merengue, it tasted kind of like a Creamsicle. My least favorite was Smart Sour Plum, it was worse than Beverly.
On the back wall there was a small area where you could buy floats and frozen beverages. There was also Coca-Cola merchandise for sale. There were t-shirts, hats, drink containers, and a few other themed items. The counter to pay was along the same wall as the drink stations.
It's nice to have a larger store open at Epcot once again, and I'm thrilled that Club Cool is back. The floors weren't yet sticky, but I have a feeling that they were by the end of the day. Even with the new floorplans and protocols, both locations felt a little bit like home.