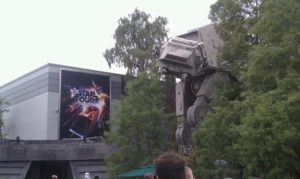 I recently mentioned that there could be soft openings for Remy's Ratatouille Adventure. I later realized that not everyone is familiar with the term. Others don't know how they work at Walt Disney World. I thought I'd quickly talk about the subject of soft openings.
A soft opening is when something opens before the official opening date. In the case of Remy's Ratatouille Adventure, it would be if the ride accepts guests from the general public before October 1. Previews and soft openings are not the same thing. A preview is when a person or group is invited to something before all guests are allowed to visit.
Soft openings are hit or miss. There could be a soft opening one day and then none the next. Also, don't expect set hours for a soft opening. It will open when Disney wants to open it, and close when they want as well. To avoid crowds outside of the ride the times will seem random.
It isn't just rides that receive soft openings. Restaurants can have them. Shows can as well. A new store could open unexpectedly.  All of Toy Story Land opened for a few hours the day before the official opening date.
In a soft opening Disney will be able to check various aspects to see what is working and what isn't. Slight adjustments could be made before the official opening day. There could also be rules that are enforced. I attended the soft opening for Star Tours – The Adventures Continue. We weren't allowed to take pictures. Those who wouldn't comply weren't allowed to ride.
You won't find information on a soft opening on the My Disney Experience app. The ride (or whatever) will still be listed as closed or coming soon. There are two main ways to find out. You can keep checking throughout the day. Walk by the attraction and see if people are allowed to enter. Don't ask a Cast Member if there will be a soft opening, because often they aren't allowed to say. The other way to find out is on social media. When something is open unexpectedly, people want to talk about it! That was how I found out about the Star Tours soft opening. People were bragging, and I wanted to be able to brag as well.
There is no formula for figuring out if there will be a soft opening. People were hoping for something a couple of weeks ahead of the opening of Toy Story Land, but it didn't happen, except for those few hours the day before. The land wasn't ready until just a couple of days earlier. When New Fantasyland opened, there were previews and soft openings running on the same days.
If there are previews for Cast Members, Passholders, or media, there won't be a soft opening at that time. Previews are for select people to enjoy a ride without a lot of others around. There could be a soft opening the same day as a preview, but it wouldn't be at the same time.
I think that there is a good chance there will be soft openings for Remy's Ratatouille Adventure. I've heard from more than one unofficial source that the ride has been finished for quite a while. This ride is the first step in Epcot's transformation. I, for one, can't wait.