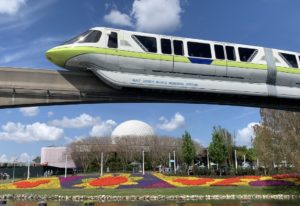 July 18 update: the Epcot monorail is running once again!!!
There is a very strong rumor that the Epcot monorail is about to return! I have heard it from a couple of sources that I trust. The only reason why I'm calling it a rumor is because I haven't been able to find an official confirmation from Disney.
According to the rumor, the Epcot line will be running once again this coming Sunday, July 18. It will start running an hour before the park opens, and continue until an hour after Epcot closes.
This also means that the buses will stop running from Epcot to the Magic Kingdom monorail resorts. There will be no buses to Disney's Grand Floridian after July 25. Bus service will stop at Disney's Contemporary Resort on July 24, but will be available from July 26 through 29 because of refurbishment. Speaking of refurbishment, the bus service from Epcot to Disney's Polynesian Village Resort will end in the middle of August. Currently there is no monorail stop at Disney's Polynesian Village Resort because of construction.
I'll keep looking for official word from Disney. When I find it, I'll let you know.