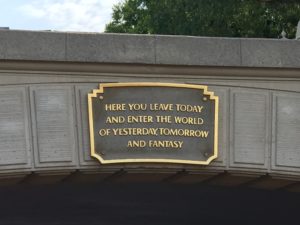 After a recent conversation with a reader there is something that I want to clear up. Disney Over 50 is a fan site. It is not run by the Walt Disney Company, and it is not in any way affiliated with the Walt Disney Company. The same is true for most of the Disney sites that you read or watch videos from. This site is run by one person, me, with the help of my daughter, because she takes better pictures than I do.
My family and I live in the Orlando area. We have passes to several of the area parks. We visit many other local places as well. Even though this site is called "Disney" Over 50 I will often talk about other things that I think might be of interest to you. I've included information on everything from beaches to Universal. I'll often talk about planning a day off from the Walt Disney World theme parks, and will include suggestions on what you can do on those days.
If I've misrepresented myself or Disney in some way, I apologize. I never meant for people to think that I am speaking for Walt Disney World. Sometimes I will add something that is directly from Disney, and I will always let you know. I will never claim those words as my own. I want to be transparent about this. There is a big difference between a Disney site and a Disney fan site. I don't work for Disney, I just write about Disney. I'm a fan, just like you. If you have any questions, please contact me, and I'll try my best to answer them. But please, don't just jump to conclusions about who I am or what I am all about. I wouldn't do that to you.