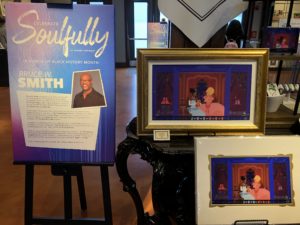 The Black History Month celebration is in full swing at Disney Springs. There are plenty of ways for you to join in on the fun. Here are just a few of the things that are taking place.
There is special entertainment all month long on select days. You can enjoy Motown Mondays, Jazz Thursdays, and Smooth Sundays. The live entertainment at Disney Springs is always top notch, and it's free to enjoy.
There are also special art displays that feature black artists. Head to Art of Disney. The displays feature the artists' takes on some of your favorite Disney classics. You don't want to miss these!
If you're hungry, there are some extra treats to be found, such as Mardi Gras Smoked Craw Dog at B.B. Wolf's. There is also extra merchandise. Candle lovers will want to see what Dave Bowes is offering. One of his signature scents is called Jamaica Me Crazy. It combines coconut, mango, orange, papaya, pineapple, and watermelon.
These are just a few of the reasons why you will want to stop by Disney Springs this month. Walt Disney World is calling it Celebrate Soulfully at Disney Springs, and there is truly a feeling of celebration in the air.