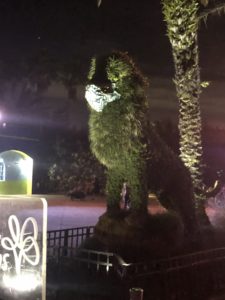 Walt Disney World is glorious for the holidays, but they aren't the only game in town. Yesterday I told you about Christmas Celebration at SeaWorld Orlando. Today I'd like to talk about another one of my favorites, Busch Gardens Christmas Town.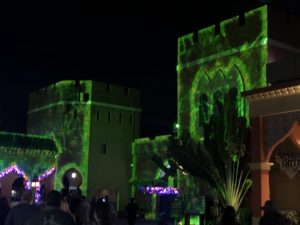 Busch Gardens Tampa is located a little over an hour away from Walt Disney World, depending on the I-4 traffic. It's owned by SeaWorld Parks and Entertainment Group. I visited Busch Gardens not long after they reopened, and I wasn't thrilled with the lack on enforcement when it came to safety protocols. I'm pleased to say that the situation has improved. I still wouldn't want to go when it's near capacity, but the employees are now reminding people to wear their masks correctly, and more people seem to be doing it. Guests still need work on social distancing.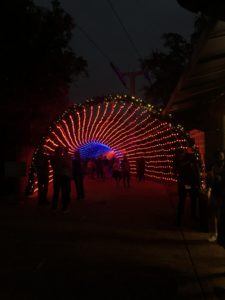 But I digress. Christmas Town is a fantastic event. There are lights in every inch of the park. Each land has a different color and lighting theme, so things change as you move about. I don't know the exact number of lights, but it is a lot more than at SeaWorld and they have three million lights there.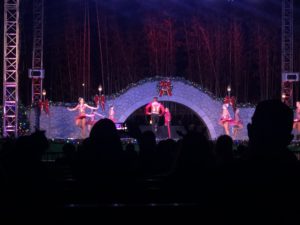 There are several holiday shows during Christmas Town. The performers wears masks and the seats are marked for social distancing. VIP seating is available. There are also fireworks on select nights.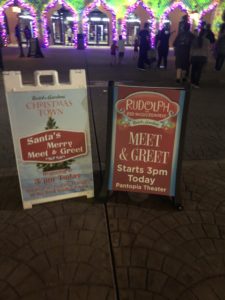 Rudolph and Clarise greet guests in Rudolph's Winter Wonderland. Santa is also on hand. There are Christmas Town characters, such as Ice Princess. (Anyone else an old time General Hospital fan? It's not that Ice Princess.) Character pictures are at a safe distance. Priority Access is available to meet Rudolph, but at $29.99 (for up to six guests) I think I'd rather wait in line. The price does include a six by eight photo. There are other picture opportunities throughout the park as well.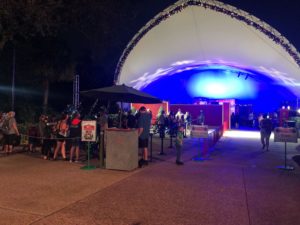 Christmas Town Village is a great place to pick up some last minute gifts. You will also want to head that way if you're hungry. There are plenty of delicious seasonal treats. You can purchase a lanyard that will allow you to try several different items for one price.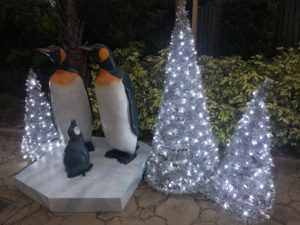 Most of the rides are open for Christmas Town, and the Wait Times are usually manageable. One of my favorites is the Holly Jolly Express. The park's train turns into a special holiday themed ride. The line for the Holly Jolly Express can get rather long, even if the park isn't all that busy. You might want to go fairly early in the night, the line will grow longer as people realize what is going on.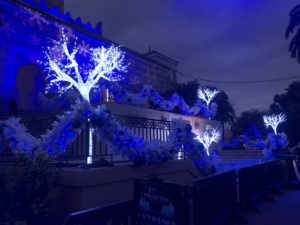 These are just a few of the highlights of Christmas Town this year. My first experience with Christmas Town was the first year that it was held at Busch Gardens Williamsburg in Virginia. It's been a favorite of mine ever since. The Tampa version is quite a bit warmer, but the holiday cheer is just as strong.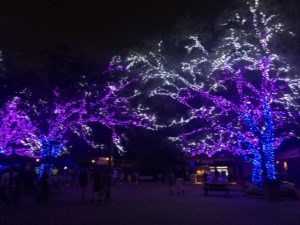 If you plan to go and want to save some money, buy your tickets online. You can almost always find deals that aren't available at the front gate. You will also want to check the hours, because they do vary. Reservations are required. Busch Gardens Tampa will be open late on New Year's Eve, so you can ring in 2021 at the park if you are looking for fireworks. I've celebrated New Year's Eve there several times, it's a fantastic show.