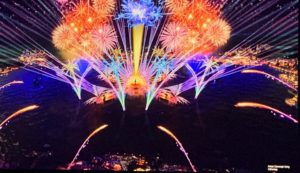 As you probably know, Monday, September 30 is the last evening for IllumiNations: Reflections of Earth at Epcot. The following evening Epcot Forever will debut. Here's the description of the new show from the Walt Disney World Website:
Witness the wonder as the story of Epcot and its next incredible chapter come to life in this new show debuting October 1, 2019. Behold the single "spark of imagination" that started it all. Watch it grow, evolve and transform into an epic nighttime extravaganza that stirs the senses and captures all you love about Epcot—and all that's to come—with dazzling fireworks, stunning laser effects and choreographed kites set to tunes that have become theme park favorites.
I can't wait to see Epcot Forever. I will be there opening night. You can be there as well, without having a theme park ticket! Disney Parks Blog is going to carry the first show live. The broadcast will begin at 8:50 Eastern. Most likely it will run for half an hour or so.
Even though the word "forever" is in the name of the new show, it is only temporary. It will be replaced sometime in 2020 with a new permanent show called HarmonioUS. That will be, according to Disney Parks Blog, " the largest nighttime spectacular ever created for a Disney park". I'm sure that plenty of information about HarmonioUS will be released in the next few months.
The livestream of Epcot Forever will be found on the homepage of Disney Parks Blog once the broadcast gets closer. You will also be able to find it on Facebook. I will add the link on the Disney Over 50 Facebook page as soon as I have it. Remember, you don't have to watch it live. It will still be available to view after the show is over. While it's going to be strange to not see IllumiNations any longer, I have a feeling that Epcot Forever is going to be incredible.