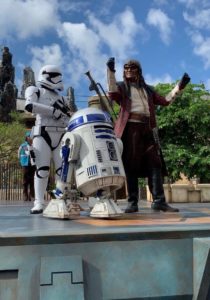 One thing that people ask me fairly often is whether or not they should start a Disney blog, vlog, or podcast. While it is of course not up to me what anyone else does, I am always happy to share some advice. I've been writing about Disney for years, and I've been pretty successful at it. I thought that maybe I could share with you what I tell others when this conversation starts.
There are two things that are equally important when it comes to starting any type of Disney related project. The first is that you need to have a real love for Disney. You need to be the type of person who others will come to for advice. Being one of those annoying people who will try to help out total strangers in the parks helps as well. (Yes, I'm talking about the bald man who I offered sunscreen to while in line for Slinky Dog Dash the other day.) You don't need to live near Disney, but you do need to know what is going on. If your first post talks about how you can't wait to ride The Great Movie Ride on your next vacation, you've lost all credibility.
The second thing that you need to keep in mind is that you will not make money at it. Yes, some people make a living off of their blogs. They're just a tiny percentage of those who actually write them or make video blogs. Disney Over 50 has been up and running for about a year and a half now. I haven't made one cent off of it, and that's fine with me. I do it because I enjoy it.
If you decide that you want to start a Disney blog, vlog, or podcast, there is one thing that I will recommend. Find a niche, something that not everyone else is already writing/vlogging about. That is kind of how I decided on Disney Over 50. My sister was planning her first trip to Florida in a looooong time, and she had a ton of questions. I noticed that so many of the Disney websites are written with families with two 32 year old parents who have a seven year old boy and four year old girl in mind. I realized that if my information could help my sister, maybe it could help others who are also 29 and holding.
One final thing to keep in mind. If you want to start a new blog or other Disney site, make sure that you keep up with it. I am not saying that you need to post something every day, but twice a year will not cut it. It takes time to find an audience (I'm still working on that), but you will lose the few people you already have if you never add anything new.
I am glad that I started Disney Over 50, I have a great time here. It can be a lot of work, but it's worth it. I've already developed a small community, and I love each and every one of you. So if I haven't scared you off, my advice if you are thinking about starting a Disney related site is to do it! Work hard to make it the best that you can, and don't give up. You just might help some really nice people along the way.