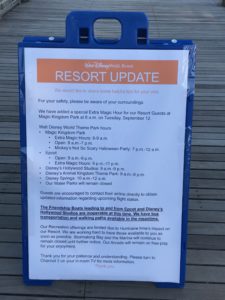 Many people scrimp, plan, and save for weeks, months, or even years for a Walt Disney World vacation. No one wants to then hear that a hurricane could be on the way! Hurricanes can be unpredictable. A storm that looks like it is headed straight for Central Florida could turn and not hit the area. The opposite can also be true, a storm that wasn't expected to cause a lot of damage suddenly shares its wrath. The most important thing that you need to do when a storm is approaching is to stay safe, even if it means postponing or cancelling your trip.
Speaking of cancelling a trip, you will want to know Walt Disney World's Hurricane Policy. If you booked through Walt Disney World you can change or cancel if there is a Hurricane Warning within seven days of your trip. The warning could be in Florida, or it could be where you are traveling from. Do not expect it to be an apples for apples change if you reschedule your vacation. If you booked with a promotion such as Free Dining, it might not be available on your new dates. You can learn more about Walt Disney World's Hurricane Policy here. Call 407-939-7675 for more information.
What happens if you booked through a third party? You might be out of luck. Contact the company that you booked through and see if anything can be done. Trip insurance is never a bad idea, especially if your trip is during hurricane season.
Walt Disney World will not automatically close if a hurricane might be coming. They will keep a close eye on the situation, and do what they have to in order to keep people safe. It is not all that common for the theme parks to close. A lot of people will point to Hurricane Matthew in 2016. The theme parks closed, even though the area did not get hit hard. What many don't realize is that the parks had to close, because the county roads were closed. It was illegal to get to and from the parks.
While the Weather Channel can be a great source of information, you might want to turn to a local source instead. The local television stations all have mobile apps, and you can also check their websites. Local TV can be much more precise than national.
If you're at Walt Disney World and a storm is approaching, don't worry, you will be safe. The resorts were all designed with Florida weather in mind. If you have a couple of days ahead of time, you might want to head to a local store. Use a ride sharing service or taxi if you don't have a car. Pick up snacks that will not need refrigeration, as well as beverages. If you have kids with you consider buying a toy or two. Give the toys to the kids during the storm to keep them occupied.
During the storm, do what Disney tells you. They will do a good job of keeping you informed. Depending on where you are staying you might need to stay in your room, or you might be able to head to the lobby. There will be extra activities going on. Disney will have food available, but it could be basic. Remember that the restaurants will not be open.
Be nice to the Cast Members. Most likely they are also staying at the resort for the duration of the storm. They are putting in long hours, away from their families and their homes, to help you get through the storm. Please don't forget that.
The Orlando area received a direct hit from Hurricane Irma back in 2017. The next day, some guests who were staying on property went outside to help clean up the grounds. That warmed my heart. It was like some of the guests were trying to give back to the magic. A couple of days later, everything had returned to normal. It was almost as if there hadn't been a hurricane.