Each holiday season, snow falls at both the Magic Kingdom and Disney's Hollywood Studios. The temperature doesn't matter, it can be 80 degrees and the white stuff will still fill the air. How is this possible? It's simple, it is not real snow (of course). Instead, it's "snoap" that blankets the air.
Snoap is snow that is made out of soap, hence the word snoap. It is shot out of boxes that are on light poles, and then it falls to the ground. I grew up in New England, so snoap makes me laugh. We live in Florida now because I've had my fill of the real stuff.
If you'd like to experience snoap while you're at Walt Disney World, it's part of Sunset Seasons Greetings at Disney's Hollywood Studios. This year they've added lasers, and the effects are really cool. I saw some concept drawings for it a few months ago and they did not do it justice. Snoap also falls on Main Street, U.S.A. during Mickey's Very Merry Christmas Party.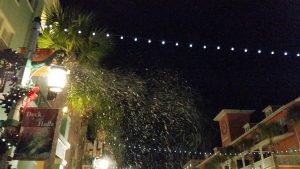 You don't need to have a ticket in order to see snoap for yourself. Off of the top of my head I can think of two other places where you can see this strange concept. The first is Now Snowing in Celebration, Florida. It takes place nightly November 24 through December 31. Snow falls on the hour, every hour, between 6:00 and 9:00. (I wish we had such a precise schedule when I was growing up!) The other event locally where I've seen snoap is Light Up UCF. That takes place at the University of Central Florida. It runs November 16 through January 1. I'll give you more information about both events here soon.
Snoap is fun to watch in Central Florida, because many people here do not know much about real snow. There are kids at the events who have never seen real snow, and they love the fake stuff! I don't mind snow, as long as it's warm enough to not need a coat and it doesn't need to be shoveled. Snoap is pretty, especially when it's falling near the decorations at Walt Disney World. Just don't try to catch it on your tongue. It's made out of soap, and that will ruin the illusion.