Making food choices ahead of time has gotten a whole lot easier at Walt Disney World. Of course, if you read my title, you probably realized that already. What you may not know is why.
In a BRILLIANT move, some of the allergy friendly offerings are now on the menus on the Walt Disney World website as well as on the My Disney Experience App. Scroll down to the bottom of the menu and there you'll find your choices. Read the disclaimer first. The items listed are what someone with an allergy can safely eat, not what they should avoid.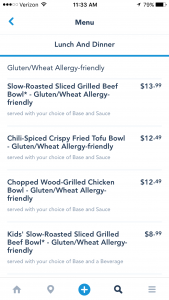 The most common allergies are listed according to category. They are gluten/wheat, egg, fish/shellfish, milk, peanut/tree nut, and soy. My family and I are vegetarian, and there is no specific plant-based category, but this will help us because my daughter also has a dairy allergy. It's going to be nice to have this information available ahead of time.
If you or a member of your party has an allergy, always ask when you order. Sometimes menu items or distributors change, and the allergy menu might not always be up to date. Still, this is a step in the right direction, and it will help many of us to be able to make safer choices ahead of time.