Anyone who knows me knows that my family and I spend a lot of time at Disney's BoardWalk. Some people joke that I have an unhealthy obsession with this small piece of paradise. We are down there a lot. We've become close friends with several of the people who work there. I love the atmosphere. It's a great place to walk, my daughter and I are avid fitness walkers. There's something special about how close it is to both Epcot and Disney's Hollywood Studios. The street performers entertain in the evening for free, I love to watch the crowd when they don't know what is coming. On a clear night you can see three different sets of fireworks from Disney's BoardWalk. It is also my favorite place in the world to watch the sun as it sets.
Disney's BoardWalk, Disney's Beach Club, and Disney's Yacht Club are along Crescent Lake. The Swan and Dolphin are also in the area. When the sun sets, it reflects in the water, which is beautiful. It's almost like we're getting a double sunset. What is also nice is that the scenery changes as you walk around the lake. You can take multiple pictures of the same sunset, but you'll have a different background as you walk the loop around the water.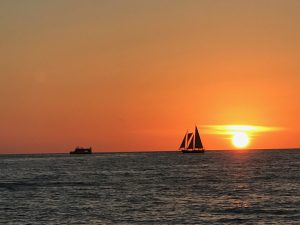 A while back I saw the sun set in Clearwater Beach, Florida, and I thought that was the most magnificent sunset ever. Then Hurricane Michael hit Florida. Walt Disney World did not receive a direct hit, but since the atmosphere was out of whack (that's my scientific explanation; my dad is a scientist) we ended up with the most incredible sunset that I have ever seen. It was filled with dark pink and deep purple. I've never seen such an intense sunset before, and I've been obsessed with sunsets since I was a child. The pictures that I took didn't do it justice.
My point is that if you're looking for a fun way to spend an evening while you're at Walt Disney World, consider heading to Disney's BoardWalk. There's great food and free entertainment. Check to see what time the sun is going to set, and get ready to enjoy the view. There's a good chance that I might be there as well, snapping a few pictures on my phone.