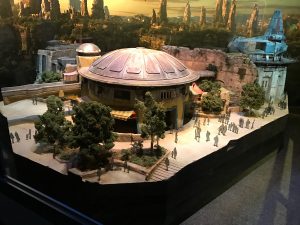 One question on the mind of Star Wars and Disney Parks fans is when will the two Star Wars: Galaxy's Edge lands open? While we still do not have an actual date, we now have a time frame. According to Disney Parks Blog, the Disneyland version will open "summer 2019" while the one at Walt Disney World will be "late fall 2019".
Star Wars: Galaxy's Edge will take guests to the planet of Batuu, which was created exclusively for the two lands. Part of the model for the land is on display at Walt Disney Presents at Disney's Hollywood Studios. I've seen the full model, it's impressive.
The next D23 Expo will take place in Anaheim, CA August 23-26, 2019, so the summer date for the Disneyland Park version makes sense. "Late fall" could mean as late as December, 2019. Star Wars: Episode IX has a release date of December 20, 2019, my guess is that the Disney's Hollywood Studios version will open close to that date, but that's pure speculation on my part.
Keep checking here at Disney Over 50, I'll add more information whenever I get it.