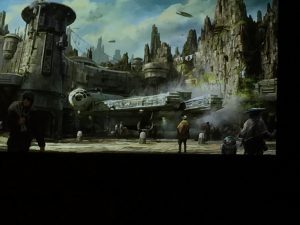 There had been rumors for years that a Star Wars themed land was on the way to Disney's Hollywood Studios. In 2015, the rumors became real as new lands based on the Star Wars franchise were announced at the D23 Expo. It was said that both coasts would receive a new land, and that the two would be similar. Not much other information was given at the time, but now we know a lot more. Here are the basics of what we can expect.
Name and location:
The name of the new land will be Star Wars: Galaxy's Edge. It will take place on the planet of Batuu, the village is Black Squire Outpost. If the name Batuu doesn't sound familiar to Star Wars fans that's because it is a brand new location that is not included in any of the movies. Here's the description of Batuu from StarWars.Com:
"A remote outpost on the galaxy's edge, Batuu was once a busy crossroads in the days prior to lightspeed. With the rise of hyperspace travel, however, the world — notable for the lush trees and mountain spikes that decorate its surface — was left behind, its prominence lost to planets on more popular trade routes. Today, Batuu is home to those who prefer to stay out of the mainstream, and a thriving port for smugglers, rogue traders, and adventurers traveling between the frontier and uncharted space. Significantly, it has also become a safe haven for those looking to avoid the attention of the First Order."
As far as in the parks, Star Wars: Galaxy's Edge will be located at Disney's Hollywood Studios in Florida and at Disneyland Park in California. Both will be approximately 14 acres in size, making the new lands rather large.
Opening date:
Both versions of Star Wars: Galaxy's Edge will open in 2019. The California version will open in the summer, hopefully in time for the next D23 Expo. That will be start on August 23, 2019. As far as the Florida version, it's scheduled to open "late fall 2019". Star Wars: Episode IX has a December 20, 2019 release date. Since that is supposed to be the final chapter of the original saga, it makes sense that they might try to do it up big at Walt Disney World and open around then. Again, that is all speculation on my part. The only official word is Summer, 2019 for Disneyland, and Late Fall, 2019 for Walt Disney World. 
Rides and more:
Star Wars: Galaxy's Edge will bring two new rides to both locations. Only hints have been dropped about them. One will place you in the middle of a battle between the First Order and the Resistance. The second ride will allow guests a chance to pilot the Millennium Falcon, which will be a dream come true for lifelong Star Wars geeks like me. There will also be a cantina. Reportedly, how you perform on the Millennium Falcon ride could affect how you are treated in the cantina. The DJ in the cantina will be Rex. If you ever rode the original Star Tours you might remember the inept robot pilot, voiced by Paul Reubens. Whether or not Reubens will again provide the voice for Rex has not been announced. Another thing that you will find on Batuu is a toy shop that will be run by a Toydarian.
What to expect:
Star Wars: Galaxy's Edge needs to be phenomenal. Star Wars fan will accept nothing less. The bar was raised when nearby Universal Orlando Resort opened both ends of The Wizarding World of Harry Potter, lands that exceeded expectations. Disney showed what they are capable of with the incredible Pandora – The World of Avatar. Star Wars: Galaxy's Edge is going to be fully immersive, much like Pandora, meaning that you will be surrounded only by things that are related to the land and its story. I've spoken casually to a Cast Member who has some behind the scenes knowledge, and he told me that Star Wars: Galaxy's Edge is going to blow even Pandora out of the water. It will be that good.
Sneak peek:
If you can't wait until 2019 and are headed to Walt Disney World before that, there are two ways to get a sneak peek at what to expect for Star Wars: Galaxy's Edge. First, make sure you ride Star Tours – The Adventures Continue. I won't tell you any more than that. Second, head over to Walt Disney Presents in Animation Courtyard. It's on the way to Toy Story Mania! Inside you'll find part of the model that was created to show what Star Wars: Galaxy's Edge is going to look like. I've seen the entire model; it's going to be incredible.