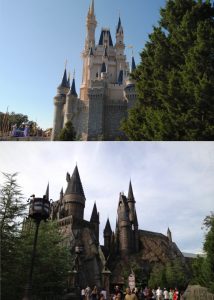 Today I overheard yet another person who is over 50 mention having spent the day at Disney, but then referenced Universal Orlando Resort. The idea that they are part of the same thing is a common misconception. It is also something that drives locals and those who are obsessed with either place insane. Why does it matter? In the grand scheme of things I guess it makes no difference when people confuse the two. If you are planning a trip to Central Florida and you mix them up, though, it could make a difference to your bottom line and also cost you time.
A little bit of background first. Walt Disney World has four theme parks, two water parks, and a district known as Disney Springs. Those are discussed in more detail in my 101 section. Universal Orlando Resort is a totally different complex owned by a different company. There are two theme parks (Universal Studios and Islands of Adventure) and a water park (Volcano Bay, which opened in 2017). At Universal Orlando you'll also find Universal CityWalk, which features restaurants, live entertainment, and shopping. It's a similar idea to Disney Springs, but CityWalk is much smaller. You'll find themed hotels at both Walt Disney World and Universal Orlando Resort.
If you mistake Universal and Disney for each other, it could end up affecting your bottom line. It all starts with tickets. When planning your vacation, the more days you buy on your ticket, the less you'll pay per day. If you plan to spend part of your vacation at Universal, you'll start all over on their ticket structure. Your Disney ticket and MagicBand will not work at Universal and vice versa. Don't laugh, I've seen people try. There's nothing wrong with buying another ticket so that you can hit both Universal and Disney, but just keep in mind that you will need to start at the high level when it comes to your ticket cost and structure.
If you plan to visit only Disney, make sure that everyone in your party knows what is at Disney; and what isn't. People all the time assume that "Harry Potter World" is part of Disney, when there is nothing even close. If you're traveling with someone who wants to walk down the streets of Diagon Alley, make sure that you decide to spend a day at Universal Studios. Otherwise, that someone will be disappointed.
One quick word about The Wizarding World of Harry Potter. Diagon Alley is found in Universal Studios, while Hogsmeade is in Islands of Adventure. The Hogwarts Express can take you between the two, but you'll need to have a park-to-park ticket in order to ride. A two day ticket with one park per day won't work, it needs to be park-to-park. The ride is different in each direction. One more warning, unlike Walt Disney World, at Universal Orlando you'll pay extra for the front of the line privilege, unless you're staying on Universal property. Universal Express is their version of FastPass+.
One nice service that is offered by Walt Disney World is Disney's Magical Express. If you're flying into Orlando International Airport and staying at a Disney owned resort, you can enjoy a free ride to and from the airport, saving you the expense of renting a car. You can then use Disney transportation to get where you need to go on property, but it's inclusive. If you want to spend a day or two at Universal Orlando, you'll need to find another way to get there. You can rent a car for the day (car rental is available on Disney property), you can grab a cab, or you can use a ride sharing service. There is no direct bus from Disney to Universal. Realizing ahead of time that Universal and Disney are not the same thing will allow you to plan ahead, which will save you stress during your vacation.
Before you leave home, take a quick peek at the Universal Orlando Resort website. You can then decide whether or not you want to spend part of your vacation there. Remember, though, that they are two totally different places, owned by totally different companies. And please don't ask which one SeaWorld Orlando is part of, that's a third company to throw into the mix.