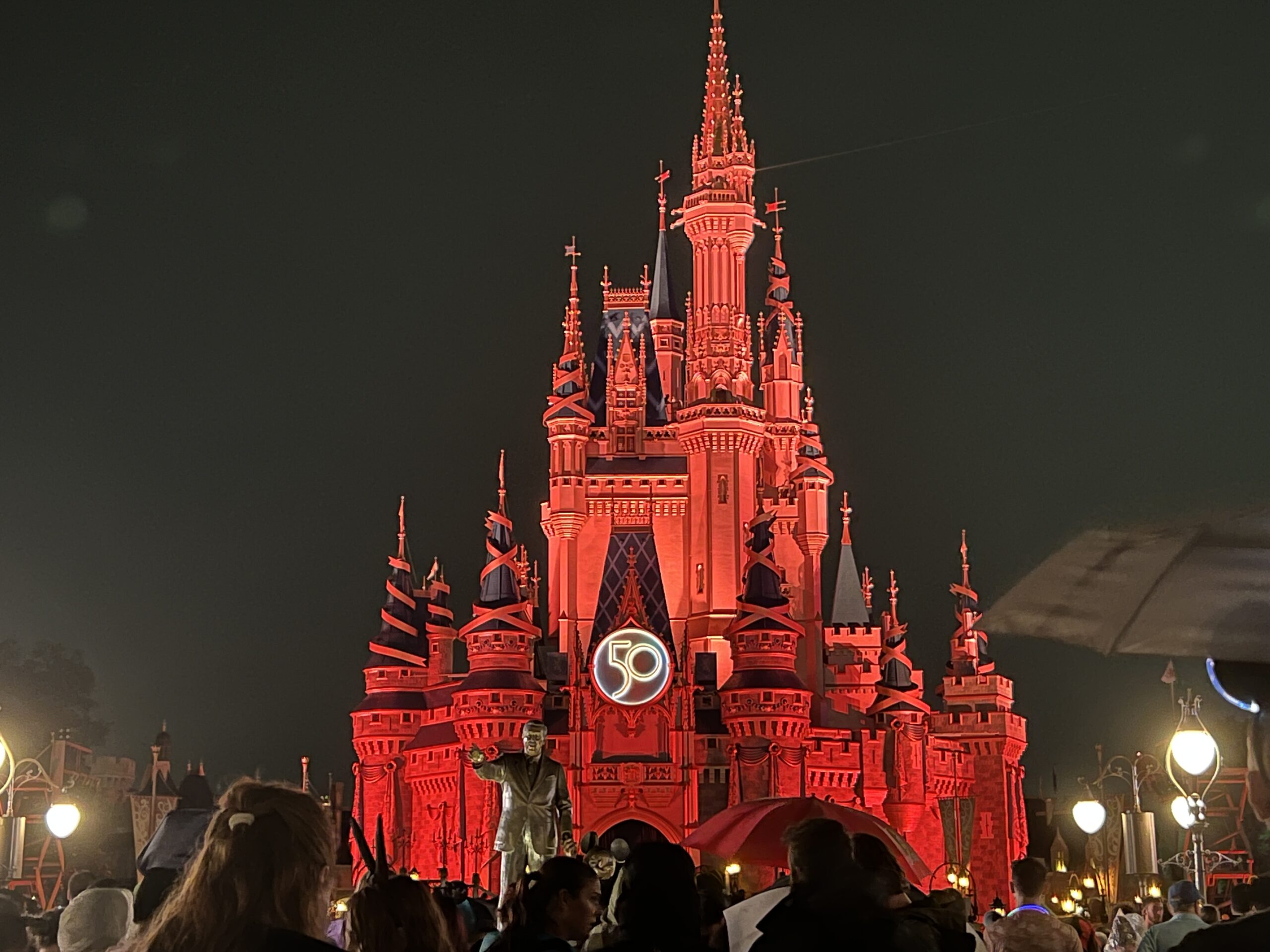 In 2020, Mickey's Not-So-Scary Halloween Party was canceled because of COVID-19 concerns. In 2021, we had Disney Boo Bash After Hours instead. On August 12, 2022, Mickey's Not-So-Scary Halloween Party finally returned! The moment that I realized that our schedules would allow, my daughter and I bought our tickets for the opening evening.
We had an incredible time! That said, not everything went according to plan. We checked the forecast before we left, and it said that the weather would be dry most of the evening, with only a two percent chance of rain. That two percent won. The rain and lightning started before 9:00, and it never totally stopped the rest of the evening.
With your Mickey's Not-So-Scary Halloween Party ticket you can enter the Magic Kingdom at 4:00, even though the party doesn't begin until 7:00. You do not need a Disney Park Pass Reservation. If you're able to get to the park that early, do it. The Magic Kingdom clears out early, and you can hit a few rides. The park closes to the general public at 6:00, which means there's an hour in between with just other party guests, but before the evening officially starts. It's a great time to hit one or two favorite attractions that don't have a special theme for the party.
There are signs when you arrive for which turnstiles are for partygoers. You'll then receive a wristband. You need to show your wristband after 6:00 whenever you pass Cast Members. If you decide to make a Disney Park Pass Reservation and spend the day at the Magic Kingdom, you can get your wristband inside the park. You won't have to go out and back in.
If you enter while the Magic Kingdom is still open, head to the right. You can pick up your Trick or Treat Bag and your first piece of candy, a full sized bag of M&M's. (Most of the candy is fun sized or minis.) The bags are new this year to celebrate Walt Disney World's 50th Anniversary. If you have an allergy, ask for a Teal Bag. You won't get candy, just tokens, but you can then turn those in for treats that you can safely enjoy. The Teal Bags are the same as the ones given out in the past, they aren't designed for the 50th.
The Magic Kingdom is dressed up for Halloween. The Scarecrows are back once you enter the park. There was one change that was a disappointment. This year, there are no Mickey Pumpkins on the light poles. Instead, there are Cinderella Carriage Pumpkins. They still dance to the music after dark, but it's not the same. With special lighting, Cinderella Castle looks great once the sun goes down.
Grab a map when you enter, and spend a few minutes prioritizing what you want to do. There are fewer guests, but it's still busy. You aren't going to be able to do it all.
My daughter and I decided to skip the characters. The lines for the ones that we passed were long, and since the rain started before 9:00 and never totally stopped we knew that we wouldn't be happy with the pictures. We didn't do the MagicShots for the same reason. Right now I'm tempted to buy tickets for a second party so that we can do mostly character pictures, but my bank account will talk me out of that.
One of my top priorities was to ride Space Mountain. For some, this could be the scariest part of the evening! The lights are turned off and a creepy soundtrack plays. If you thought that Space Mountain was dark before, you need to experience it like this. Lightning Lane for the attractions seemed to be an option for those who had purchased Disney Genie+ earlier in the day.
Pirates of the Caribbean also receives a fun party twist. Instead of changing up the ride, actors are placed in a few spots. You'll find them in the queue and during the ride itself. The actors give Pirates a new dimension, especially when they interact with the guests.
Two other attractions change for Mickey's Not-So-Scary Halloween Party. Mad Tea Party (which we didn't ride) has different lighting. Monsters, Inc. Laugh Floor is both a show and a candy location. You will get your candy at the entrance and the exit. If you want to sit down and enjoy a few laughs, you can do that also. The regular cast of characters interacts with the audience. It isn't a full show, and you can come and go as you please.
Mickey's "Boo to You" Halloween Parade is a highlight, if not the highlight of the evening for many. It runs two times a night; unless the weather dictates otherwise. On the first evening that's exactly what happened. The 9:15 parade was canceled. Normally the second parade is less crowded, but since there was only one 11:15 was wall to wall people along the entire route. It was still a joy to watch again. Disney started it a few minutes early, probably because of the forecast.
Disney's Not So Spooky Spectacular is the fireworks show. It's supposed to take place at 10:15, but got pushed back to about 15 minutes because of the storm. It wasn't hard to find a good viewing area, even right before the fireworks were supposed to start. The premise of the show is that Mickey and the gang get lost trick or treating, and Zero helps them out of the mess. I like the Christmas fireworks much more, but these are still nice.
I don't know how many Hocus Pocus Villain Spelltacular shows ran. Disney will cancel stage shows if there's even a small amount of rain, and once it started it never fully stopped. We saw the Cadaver Dans in Frontierland, but that was before it started to rain.
Not-So-Scary merchandise is sold only in the Emporium on Main Street, U.S.A. this year. When we checked, the line was at least half an hour to get into the store. There was no guarantee that there would still be anything that we wanted, so we skipped that as well.
My daughter and I have a tradition of ending special events at the Magic Kingdom by riding Seven Dwarfs Mine Train. We got in line a few minutes before midnight. The posted Wait Time was 20 minutes, and it was close to accurate.
When you leave, there is one last treat. Each guest was handed a commemorative print. They were in plastic bags so they didn't get ruined in the rain.
While the rain did cause a few problems for us, we are both glad that we went to the first evening of Mickey's Not-So-Scary Halloween Party. It's Florida in August, we knew it might rain when we bought the tickets. I'm glad it's back. If you're on the fence about going, I highly recommend that you do! Just don't put it off, dates are starting to sell out.