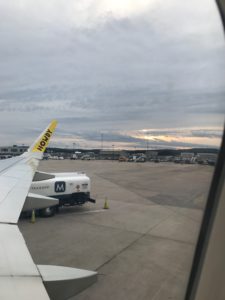 I've mentioned before that flying on a discount airline can save you quite a bit of money. I've talked here about Frontier, Spirit, and Allegiant, all three of which I have experience with. One of the main upcharges for these and some other airlines is your bags. You are allowed to bring one personal item that will fit under the seat. If you need to use the overhead bin or check a bag, well, there goes the money that you saved. I'd like to show you how to keep that money in your bank account.
When I fly a discount airline, I bring just a backpack. You might not think that would work, but it can and does. This summer I flew to Massachusetts twice for a week each time, and I was able to get everything that I needed for seven nights into a backpack that fit under the seat. It's not even a large backpack that I use, it's a normal size.
The first thing that you need to do is to decide what you are really going to need on your trip. On my first summer trip to MA there were a couple of small items that I brought that I didn't really need. The discount airlines are counting on you overpacking. If you're going to be in Florida for several days, plan on doing a load of laundry at one point. While that might not seem like the ideal way to spend your vacation, it will cost only a fraction of what bringing a carry-on bag would cost, and it really won't take all that much time.
Another important tip is to roll your clothes. It is amazing to me how much more I can fit in my backpack this way. I will sometimes use a few good quality gallon sized plastic zipper bags, and suck the extra air out with a straw. That gives me even more room. Make sure that the zipper bags aren't the bargain ones, because the cheap bags will often not seal tight.
When I fly discount I can't carry a purse, because that would count as an extra bag. You're only allowed one personal item. I have a very small purse that I will put a couple of important items in, and then that will be the last thing that I place in the backpack. You could instead use a fanny pack or a running belt with pockets, and just wear it onto the plane. I will also tie my coat around my waist or carry it, I will never try to fit it into the backpack. I take advantage of the pockets in my coat, they're great for holding small things such as my MP3 player. I need that because discount airlines don't have movies.
If you're wondering what to do about souvenirs, keep them small. Magnets, keychains, and necklaces aren't going to take up any extra room in your backpack. If you bought T-shirts or hats that you can't fit into your bag, wear layers onto the plane. I am not too proud to admit that I have worn three T-shirts on a plane because they wouldn't fit into my backpack. Don't worry about getting too hot, use the overhead vent at your seat to keep cool.
Pack your backpack or duffle bag a couple of days before your flight, so that you will know that everything fits. If it doesn't and there is nothing that you don't want to leave at home, buy a bag from the airline right away. The closer you get to your flight, the more it will cost.
If I'm traveling on a discount airline with my husband and daughter, we will sometimes splurge a little. We won't buy a carry-on, but we will buy one checked bag. It costs less to check a bag than to place one in the bin, and all three of us can share the suitcase. If you do that make sure that you put your lighter things in the suitcase, because the airline staff will weigh the bag and charge you a lot more if it is over the airline's weight limit.
It might be a little bit of a hassle to try to pack on the cheap, but it is worth it with the amount of money that you save. The discount airlines often cost a third of what the other airlines charge. Don't get me wrong, I'd rather fly JetBlue, but the savings is enough that I have been able to visit my parents three times this year (I also went in the spring), rather than just once. That right there is worth the extra hassle.