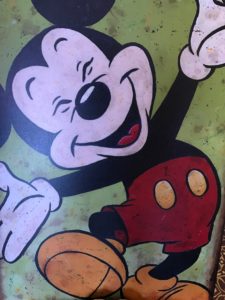 I had an idea that I planned to write about today. It was partially written out in my head. (Yes, I have conversations with myself. I'm a writer, it comes with the territory.) Then something happened that made me change my mind about what I planned to write. I'll probably write that tomorrow instead. Maybe not, we'll see. Today, I'd like to encourage anyone reading this to participate in a random act of kindness.
My act was not really all that much. Last night, I read a post on Facebook written by a mom who was disappointed because all her son wanted for his birthday in September was to make a lightsaber in Savi's Workshop, and she couldn't get a reservation for his actual birthday. As a mom myself, I know how much she wanted this for him. This morning I noticed that a lot of spots had opened up for Savi's Workshop in September, so I found the post to let her know. It only took a minute of my time. It wasn't a big deal to me, but it was to her. She was able to get a reservation on her son's birthday, and she was very appreciative. It feels good to know that a young Star Wars fan is going to have an incredible experience because I took the time to let her know.
There is so much anger and hatred these days. I'm sure you've heard the rantings of the woman who was upset that "childless millennials" were at Walt Disney World. We've also all seen the video of the family fight at Disneyland. Each time I hit a park I'll hear arguing, see people cutting in line, and witness plenty of other bad behavior. But I know that the good outweighs the bad.
Some of my favorite stories are of acts of kindness from guests at Walt Disney World. I've seen people give total strangers their leftover Disney Dining Plan credits. I've witnessed the look of relief on a mother's face when a door was held open so she didn't have to struggle with a stroller. Some of the best conversations I've had at Walt Disney World have been with strangers who found out that I'm local and write for Disney Dining, so they want advice on something.
Random acts of kindness also work for Cast Members. This is a group of people who work long hours in the Florida heat to make your vacation magical. I've heard of people who will make cards to give to Cast Members who go above and beyond, just to thank them. I've heard that these same Cast Members cherish those cards. I love to leave Cast Member compliments. I know that not every Cast Member is perfect, but they get a lot of abuse day in and day out. Some guests (not anyone reading this) seem to forget that Cast Members are human, and that they have their own lives and their own pain. A smile and a thank you can go a long way to help turning someone's day around.
Of course not all random acts of kindness need to be at Walt Disney World. If you're alive, you can participate. I'd like to encourage anyone reading this to do something nice for someone else each and every day. It doesn't have to be a big act, as long as it's kind. Who knows, maybe it will be contagious. Maybe there will be a little less anger and a lot more love in the world. It's worth a try.