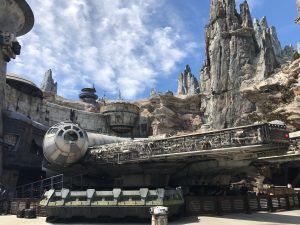 When the opening dates for Star Wars: Galaxy's Edge were announced for Disneyland Park in California, people started immediately to make jokes about how long the line to get into the new land would be. The first three weeks reservations were needed to visit, and the spots for the general public were snatched up quickly. Many thought that the first day without reservations was going to be a free for all, but crowds have been manageable. Because guests have been able to see and do all that they wanted, some people are saying that Galaxy's Edge is a flop. Don't believe it.
Disney told us all along that they had a plan for crowd control, and it's worked. The first part is simple. I've heard that about half of the people who visit Disneyland are Annual Passholders. There are several different levels of passes for people who live in California. Most of the levels include block-out dates. That means that these Passholders cannot visit Galaxy's Edge without buying another ticket. Most are simply deciding to wait until they can go with the ticket that they hold. A one day ticket to Disneyland can cost as much as $149. I can't say that I blame them for waiting.
Another reason why the crowds have been lower than some people expected is because only one of the two rides is open. (I think that this is going to help with crowd control in Florida as well.) While Millennium Falcon: Smugglers Run is a brilliant ride, Star Wars: Rise of the Resistance is supposed to be even better. Not everyone can afford a trip to Disneyland every few months. When they finally experience Galaxy's Edge, they want to be able to experience all of Galaxy's Edge.
I also think that the virtual queue idea is a great one. I don't know how often it has gone into effect, but it's there for peace of mind. If there is a virtual queue, you'll know ahead of time that you will be able to spend time in the land. You don't have to rush there first thing at rope drop. That lets people stop by at their own pace, instead of everyone crowding in at the beginning of the day.
I don't know what the crowds in California mean for when Galaxy's Edge opens at Disney's Hollywood Studios in a few weeks. Walt Disney World is a much larger tourist destination than Disneyland is. I think that Extra, Extra Magic Hours are going to make a difference, because many resort guests will want to get there at 6:00am. One thing that I am sure of is that Disney is paying close attention to what is happening at Disneyland, so that the opening at Walt Disney World will go as smoothly as possible.
There's somthing thing that I think will help with the crowds at Disney's Hollywood Studios. We've already been told that Platinum and up Annual Passholders will be eligible to sign up for Passholder Previews. That is going to give many people a chance to see Galaxy's Edge with a limited number of people. The Passholder Preview that I attended for Pandora was very well done, we had enough time to do and see it all…more than once. The same thing will most likely happen again this time.
It is way too soon to say that Star Wars: Galaxy's Edge is a flop. Instead, people should be praising Disney because they delivered what they promised. They said that they would make sure that people could truly enjoy this incredible new land, and that is exactly what has been happening. Keeping a promise to the masses; that sounds like success to me!