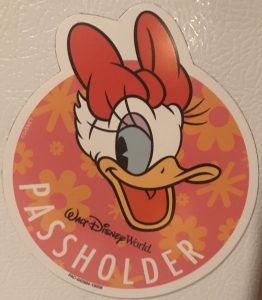 I've said before that buying an Annual Pass for one member of your party can save you money on your Walt Disney World vacation. Recently, Walt Disney World raised the price of Annual Passes significantly. This begs the question, is buying one Annual Pass still a good idea? It depends on your plans, but I think that it can still help you to save.
It all starts with how many days you need a theme park ticket for, and when you plan to visit. I'll pick a random week in September. A four day Park Hopper Plus ticket that begins on September 16 costs $532.74. If you're not a Florida Resident, the price for a Platinum Plus Annual Pass is now $1,219. So the Annual Pass is currently $686.26 more than your ticket. But, that doesn't include discounts. If you're staying on property, you can try to book an Annual Passholder discount. If you're staying off property, your theme park parking ($25 per day) is included. That's another $100 that you can take off of the cost. You'll also save the $169 for Memory Maker. We're down to $417.26 more for the Annual Pass. You'll save 20 percent on most of your souvenirs, ten percent at some restaurants, and receive discounts on miniature golf, movies, tours, special ticketed events, and more. You can ride bikes, take a carriage ride, rent a boat, or even enjoy some spa time, all at a discount. But with this scenario one Annual Pass might not make sense. 
Remember, the numbers above are for a four day Park Hopper Plus ticket, and it's during a less expensive time of year. The same four day ticket purchased on Christmas Day will cost $703.25! Add the $100 for parking and the $169 for Memory Maker, this makes a lot more sense.
Also, the $1,219 is for the Platinum Plus Pass. The Platinum Pass, which doesn't include the water parks, is now $1,119. Florida Resident and DVC Passes cost less. And as always, the longer you stay, the better deal it becomes.
My advice is this; crunch the numbers if you're trying to save. I can't tell you how much money you're going to spend on souvenirs, or if you plan to leave your dog at Best Friends Pet Care. With the price hike, an Annual Pass may not work for you. Then again, it just might. Remember, there are more benefits to being an Annual Passholder than a free MagicBand and character magnets. Even with the price going up, I can't imagine letting my pass expire. It may be expensive, but for me it is still the best deal around.