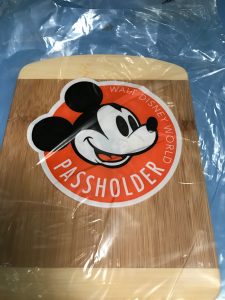 I've mentioned before that buying one Annual Pass can help you to save money in the long run. Since I've started a series on savings, I thought I'd talk about it again. The information here is for Platinum and Platinum Plus passes. Not all levels of Florida Resident Passes receive all of these benefits.
If you're looking to save a decent amount of money, there is a good chance that you will stay off property. That means that you will need to get to the parks. Some hotels do offer shuttles, but there are limits on when they come and go. Uber is a possibility, but if you're trying to save money that is something that you might want to avoid as well. Driving your car to the park will give you freedom and flexibility, but theme park parking is expensive. If one member of your party has an Annual Pass, your parking is included. This is a huge savings.
You will take a lot of pictures while at Walt Disney World. There are PhotoPass Photographers in all the best picture spots. You can purchase Memory Maker, which will add to your cost. You can purchase pictures individually if you want, but they are not cheap. If one member of your party has an Annual Pass, all of your pictures are included. This includes ride photos. The Annual Passholder does not need to be in the picture, as long as everyone is linked in your My Disney Experience account the pictures are paid for.
There are also discounts with an Annual Pass. Many restaurants (mostly full service) offer a ten percent discount, and for most stores it is 20 percent. There are discounts on miniature golf, movies, tours, special event tickets, and more.
Annual Passholders also receive some fun extras. There are often seasonal Passholder magnets that are given out in the parks. You should get a magnet in the mail as well. You'll receive the Mickey Monitor, which will fill you in on all the latest news in the parks. If you visit during a festival at Epcot, sometimes (not always) there is Passholder seating for the concerts. You'll need to pick up a wristband, you can't just show up to the reserved section. Speaking of things that you wear on your wrist, the Passholder will receive a MagicBand at no extra charge. That's not a huge savings, but every cent makes a difference when you're trying to save.
Remember as well that if you buy one Annual Pass, you will not need a regular ticket for that person. Take that into account when you're trying to figure out if an Annual Pass will save money. Annual Passes come with Park Hopper, so include that in your savings.
If you're looking to save money, chances are that you will look at all the numbers to discover the best ways to pay less. Look over the Annual Passholder benefits, and you might realize that it can be a great way to save. The hard part is deciding which member of your party will receive the Annual Pass.