There is nothing quite like the Christmas season at Walt Disney World. There is joy around every corner. I love Cinderella Castle covered in lights, and the Candlelight Processional is one of my favorite presentations. As much as I love the Christmas Tree Trail and Mickey's Very Merry Christmas Party, my favorite for the holidays is the park-wide celebration at Disney's Hollywood Studios. It's called Flurry of Fun, and the transformation is incredible.
I'll always miss The Osborne Family Spectacle of Dancing Lights. It's 20 year run ended on January 6, 2016. The Streets of America lit up with over five million lights. Every few minutes a classic holiday song would play, and the lights would "dance" to the music. Snoap would fall between the songs. It was a fun celebration, even though it was always packed.
The first year at Disney's Hollywood Studios without the Osborne Lights was a bit underwhelming. Last year, things stepped up a bit. This year…I love it. I get excited thinking about Disney's Hollywood Studios at night right now.
The decorations are fun at Disney's Hollywood Studios. Echo Lake gets a makeover, this is where you'll find the tree. There are other decorations throughout the park as well. You'll want to take plenty of pictures.
There are special additions to Toy Story Land for the season. It's decorated with Christmas lights year round, but there are small enhancements throughout Andy's backyard. The characters are ready for Christmas as well.
The nighttime offering for the season is Jingle Bell, Jingle BAM!. It's a combination of projections and fireworks. The search is on for Santa, but you never really doubt that he'll be fine. A dessert party with reserved viewing is available.
Speaking of Santa, he's at Disney's Hollywood Studios through December 24. Santa Goofy will take over for a week after that, because Santa will need his rest after his big night.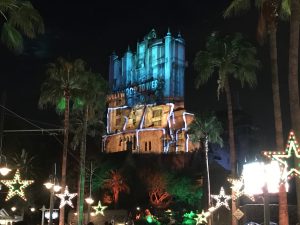 My favorite part of Flurry of Fun is Sunset Seasons Greetings. I was impressed by the projections on "The Hollywood Toy Hotel" last year, and this year it is 100 percent better. They've added lasers to the mix, and when the lasers hit the snoap, well, you've got to see it for yourself.
With the exception of Santa/Santa Goofy, the festivities will take place through January 6, 2019. I think that the only thing that would make the celebration better is if Chewbacca and the gang were to celebrate Life Day in Launch Bay. If you don't know what Life Day is, do a quick search for The Star Wars Holiday Special. It's, well, different. Don't say I didn't warn you…