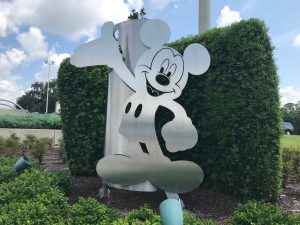 November 18, 1928 was the date that Steamboat Willie was released. That means that Mickey Mouse is turning 90 this coming Sunday. I've mentioned before that a celebration is planned at Walt Disney World, but I think that it's worth mentioning again.
The party will take place at the Magic Kingdom. It will start on Friday, November 16, and run for three days. There will be special foods such as the Birthday Bash Push Pop and the Confetti Mickey Pretzel. There's a nod to Minnie as well with Minnie's Kitchen Sink Sundae. There will be special merchandise, including a pop-up location for Annual Passholders on Friday morning.
On Saturday and Sunday guests can join in on the Tomorrowland Birthday Celebration Dance Party. On all three days you can stop into the Town Square Theater and sign Mickey's birthday card.
Mickey is the mouse who started it all, and his 90th birthday is a great reason to celebrate. There will be festivities that start early next year as well.