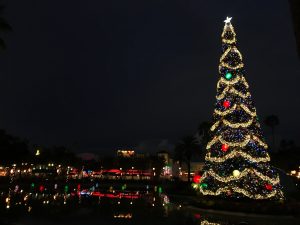 There is not a lot of time between Halloween and Christmas at Walt Disney World. We've barely gotten the Boo to You song out of our heads when we start to hear Jingle Bells. Does Christmas arrive too early at Walt Disney World? Maybe for some people, but not for me. Here is why.
The most obvious reason why Christmas does not arrive too early at Walt Disney World is that more people are able to experience it. We have close to two months of lights, fake snow, and Christmas trees. No one does Christmas quite like Disney, and it is great that they allow so many of their guests to experience the seasonal magic.
There is also a personal reason why I am glad that the Christmas season starts so early at Walt Disney World. It really puts me in the mood for the season. The Christmas season means cooler evenings, which are always welcome here in Central Florida. Christmas also makes me feel like a kid again. It takes me back to my childhood, when I would sit next to my beloved grandfather at dinner because we were the two lefties. (Lefties and righties bump elbows when they eat. If you are left handed, you understand.)
I'm also Christian, and I love that there are ways at Disney to celebrate the birth of Jesus. If you're not a Christian, that's fine as well. You can still celebrate at Walt Disney World. There are nods to other faiths, Kwanzaa, and also plenty of holiday traditions for all. No one will feel out of place, even if they don't celebrate Christmas at home.
Christmas at Walt Disney World is also beyond beautiful. It's stunning. Whether you're at a park, or you are walking through the lobby of a deluxe resort, you will be blown away. There is nothing quite like Cinderella Castle covered with Christmas lights. The gingerbread house at Disney's Grand Floridian and the tree at Disney's Animal Kingdom Lodge get me every single year. Make sure you plan a day to explore the resorts, especially the Deluxe Resorts, because they go all out.
In most places, the single digit days of November are too early for Christmas, but not at Walt Disney World. I'm glad that we have so much time to experience it. Unfortunately, before we know it the decorations will be gone, and store shelves will be filled with Valentine's Day candy. Even though we have almost two months of Christmas at Walt Disney World, it will be gone in the blink of an eye.
Then again, the end of the Christmas season will mean the beginning of a new year, and 2019 is going to be exciting at Walt Disney World! At this time a year from now we'll be counting down to the opening of Star Wars: Galaxy's Edge. I don't know the words to describe how excited I am about that! But for now, I'll just enjoy the Christmas season. The projections on Tower of Terror this year are incredible!