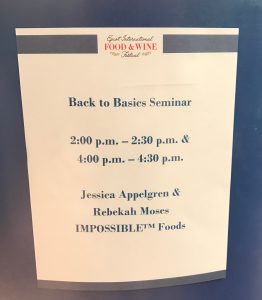 On Friday, September 28, I was part of the audience for a Back to Basics presentation on Impossible Burger. The company has been around since 2011. They make a meat substitute that mimics the real thing. Impossible Foods is based in Oakland, CA.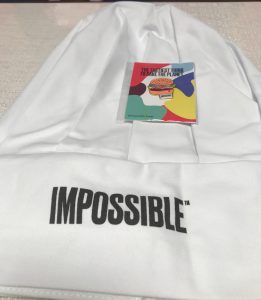 We learned that Impossible did not want to make a good veggie burger. Instead, they wanted something that is so close to beef that people would not be able to tell the difference. They broke down the components of meat, and replaced them with plant based alternatives. The bulk of the burger is wheat protein. Potato protein is added as well. Coconut oil is used as the fat, and it provides the white specks that you might see in a beef burger. Konjac, which is derived from Japanese yams, is also used. What really allows Impossible to mimic beef is heme. It has the same structure as blood, but it's plant based.
During the presentation we watched as the ingredients were mixed together and saw how the finished product does look like ground beef. It is then used in burgers, meatballs, meatloaf, and any other dish that calls for ground beef.
Impossible Foods has big plans for the future. A gluten free version is in the works, as are other products. They are also working on an egg-free egg. Right now Impossible is available only in restaurants, but they do plan to roll it out into retail within the next couple of years.
I've been a vegetarian for almost two decades, and I personally love Impossible Burger. They were not created for me, though. The company wants to start with each person where they are, and offer them a choice that is better for the planet. This is meant to be a burger for meat lovers, as well as those of us who do not eat meat. A few months ago I was at an event where Impossible Sliders were served to a room full of meat eaters. Most of them did not realize that they weren't eating beef until they were told.
Impossible Burgers are slightly higher in protein than beef burgers. They have the same iron content. There are four grams of carbohydrates per serving, and they are free of cholesterol. They are certified kosher, and will soon be certified halal as well. They save water and cut down on CO2 emissions.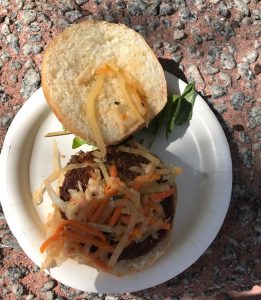 If you'd like to try Impossible, you can get a slider at Earth Eats during the Food & Wine Festival. You might also be able to get them at Nomad Lounge at Disney's Animal Kingdom. At Disney Springs you can find the Impossible Burger on The Edison menu at lunch. House of Blues has them as well; you can even order a double decker. If you aren't at Walt Disney World, some restaurant chains are adding them. You might want to check White Castle, Dave & Buster's, or Wahlburgers. To see locations near you visit the Impossible Foods website.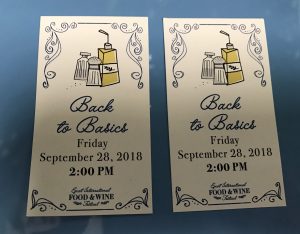 The Back to Basic series is part of the Epcot International Food & Wine Festival. It's held on Fridays, Saturdays, and Sundays. It takes place at 2:00 and 4:00 in the Festival Center. The mini-seminars are free, but you do need to pick up a ticket ahead of time. The area where Back to Basics is held only seats 42 people, and the two that I've attended this year have filled up.