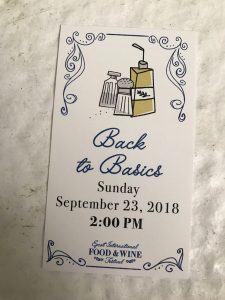 Back to Basics is a series of short teaching experiences that are part of the Epcot International Food & Wine Festival. They are held on Fridays, Saturdays, and Sundays at 2:00 and 4:00. They take place in the Festival Center. The best part of all is that they are free! You do need a ticket to get in, so stop by the Festival Center early, grab a ticket, then return a few minutes before your time.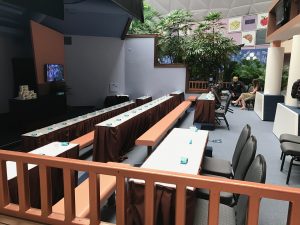 What does this have to do with cookie dough? On September 23 I attended the presentation by Chef Kaimana Chee. He represents the company Just, whose cookie dough is making its way to the Magic Kingdom. Chef Chee was awesome, his presentation was a lot of fun and he has a fantastic sense of humor.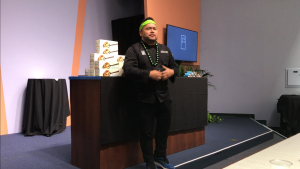 Just is a company that produces plant based alternatives to eggs. During the short presentation we learned that there are over 357,000 different species of plants, but only eight to ten percent of them are used as food. Just is using yellow peas, sorghum, and mung beans to mimic what eggs do in cooking. They have produced a line of salad dressings, mayonnaise, and cookie dough flavors that are good for the planet, as well as being good for those who follow special diets. They also have eggless eggs that scramble and cook just like the kind that comes from a chicken.
We then got to sample the Just Chocolate Chip Cookie Dough. Since it does not contain eggs, you can eat it raw right out of the package! The flavor and consistency is the same as any other raw cookie dough. If I didn't know better, I would never have thought that it was plant based.
I was able to talk to Chef Chee for a moment after the seminar was over. He told me that the deal with Disney has recently been signed, and that we could start seeing Just cookies at the Magic Kingdom in as little as three weeks. He also told me that there will be special treats during the holidays.
Having Just products at Walt Disney World makes sense. This is not a win only for vegans and those with dairy and egg allergies. This will help those who need to watch their cholesterol as well, but who want a treat while on vacation. Plant based products cut down on the amount of water that is used on the planet, and lowers the CO2 emissions as well. If you don't want to wait until your trip to Walt Disney World to try Just Cookie Dough, it's already for sale in some supermarkets. On my way home I might have stopped at my local Publix and picked some up…