In 2021 we are going to be celebrating the 50th Anniversary of Walt Disney World, but that doesn't mean that we have to wait that long for some exciting things to happen. Mickey Mouse is turning 90 on November 18, 2018, and Walt Disney World has promised that 2019 will be an exciting year to celebrate the mouse who started it all. There's plenty of fun about to happen at the Magic Kingdom, and I've already shared the information about the first two festivals at Epcot. Now I'd like to tell you a little bit about what is going to take place at Disney's Hollywood Studios.
Before Toy Story Land opened I was part of a media sneak peek, and I asked one of the Cast Members what was going to happen with Pixar Place. She smiled, and said that she couldn't say anything, but that Disney had "big plans" for the area. The entrance to Toy Story Mania! used to be in Pixar Place, and the rumor was that it was going to become a backstage area. I couldn't figure out what her smile was all about if it was going to be all backstage, but now we know. The Incredibles are on their way! Pixar Place is being transformed into a Municiberg city block. There will be a meet and greet with Edna Mode, a chance to hunt for Jack-Jack, and a block party that will celebrate Mr. and Mrs. Incredible, as well as Frozone. This could be open as early as January 18.
Elsewhere in the park, Mike and Sully from Monsters, Inc. are going to return. Their location has not been disclosed. One possible place is Celebrity Spotlight, where Olaf currently gives out warm hugs. His meet and greet was supposedly temporary, so it would make sense if that's where the monsters take up residence. Olaf has times listed on the Walt Disney World calendar through January 5, but having "no times available" after that doesn't always mean anything this far in advance. The Mike and Sully meet and greet could begin as early as January 18. They've been gone since their former location closed to make room for Toy Story Land and Star Wars: Galaxy's Edge.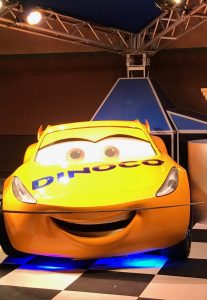 The other bit of Disney's Hollywood Studios news is that Cruz Ramirez is returning, and will be greeting fans outside of the new show Lightning McQueen's Racing Academy. That is scheduled to open in spring, 2019. When we're given an actual date I'll be sure to give everyone a heads up.