Toy Story Land was first announced back in 2015, and the long awaited addition to Disney's Hollywood Studios is finally here! Opening day seemed to go fairly smoothly. I was not there when the park first opened. I knew that it would be wall to wall people, hoping to make a dash to Slinky Dog (pun intended). I heard reports of people arriving as early as 1:30 in the morning. I also heard that at one point there was a wait of over two hours just to get into the new land. That didn't include the lines for the two new rides. According to the My Disney Experience App, at one point the line for Slinky Dog Dash was 270 minutes. The highest I saw it for Alien Swirling Saucers was 140 minutes.
As is typical in Central Florida in the summer, there were storms in the afternoon. It was a pretty long storm system, I don't know if that affected the crowds or not. My daughter and I didn't arrive until around 6:00pm. I had made FastPass+ reservations for Toy Story Mania! for 8:00. I remembered that last year when Pandora – The World of Avatar opened, eventually the land closed to people who did not have FastPass+. I did not want to be left out.
It turned out that I didn't have anything to worry about. By the time my daughter and I arrived there was no longer a line to get into Toy Story Land. It was packed, but it was manageable. We weren't there to ride the new rides, as local Annual Passholders we'll have a chance, we just wanted to soak up the ambiance a bit.
The atmosphere in Toy Story Land after dark is a lot of fun. It doesn't have the take-your-breath-away wow factor that you'll find in Pandora at night, but there's a lightheartedness to it that I wasn't really expecting. It's easy to get lost in the fantasy.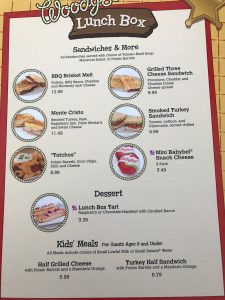 I talked with several Cast Members, and every one of them was still smiling. One man told me that the crowd was actually less than they had prepared for. A woman in the College Program said that a few key people from the opening of Pandora were brought in to help them to know what to expect. All of the Cast Members told me that there hadn't really been a problem with guests being rude. I was glad to hear that, because I know that can be a real problem.
Even with a crowd, Toy Story Land feels big. Space-wise to me it feels like it's a lot larger than Pandora, although Pandora is actually a tad bit larger. I'm surprised by how long Slinky Dog Dash is, the coaster runs the entire length of the land. I think that Toy Story Land flows well, there aren't a lot of twists and turns. You can easily get from point A to point B.
Toy Story Land is a great addition to Disney's Hollywood Studios, and it makes me even more excited about Star Wars: Galaxy's Edge. You can currently see the Star Wars land's construction at the end of Toy Story Land. That is scheduled to open late fall, 2019. The future at Disney's Hollywood Studios looks bright!