Recently on the Disney Over 50 Instagram account I added a picture of some stickers that I was given at Disney's Hollywood Studios a few weeks ago. Someone asked me where and how I got them, so I thought that I'd share a little bit of information about free stickers here as well.
Free stickers are all over the place at Walt Disney World. They're usually (but not always) round, and have a popular Disney character on them. Sometimes there's a "lesson" or "reward" of some type involved. While many of the stickers are the same, sometimes you'll be given something that is different. If there is a special event taking place, there could also be stickers that reflect the event.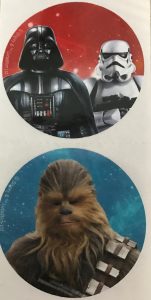 Stickers are handed out randomly by Cast Members. If you have a child with you, expect to be handed a string of them several times a day. You'll see kids covered with stickers, and sometimes their parents are wearing them as well. Stickers are not handed out just in the theme parks. I've seen them in the Walt Disney World Resort hotels and restaurants as well.
You don't need to have a child with you in order to be given some stickers. I'll have Cast Members hand them to me fairly often, and I head to the parks kidless. If you want to receive stickers, it all starts with being nice to the Cast Members. The stickers in the picture at the top of this page were all given to me because we started chatting with a Cast Member right past the turnstiles at Disney's Hollywood Studios. If we were rude or standoffish, he wouldn't have given them to me. It was also my birthday, and he wanted to make it a little more special.
If you see a Cast Member who is handing out stickers, go ahead and ask if you can have a couple. Many of them love giving out as many stickers as possible. Another place where I've received them several times is at the Disney Vacation Club booths. You don't have to talk about DVC membership if you don't want to, just strike up a conversation. The nice thing about the Cast Members who work in these booths is that they are not going to try to talk you into anything. They're just really nice, friendly people.
Stickers are also an opportunity to teach an important life lesson to any little ones in your party. If they're nice and polite, they will receive more stickers. It's as simple as that. I've seen polite children end up with a dozen stickers from one Cast Member, while kids who were on the bratty side received only one. The polite kids enjoyed the stickers more as well. There are plenty of adults who also need to learn a lesson about being nice to Cast Members, but that's a different story.