Star Wars Celebration is an official convention that celebrates all things Star Wars and the fans of the franchise. The last Star Wars Celebration was held in April, 2017, at the Orange County Convention Center in Orlando. Although Celebrations have been held in several different places in the US and even overseas, many people thought that in 2019 it would return to the Anaheim Convention Center in California. That was my thought as well. The reasoning felt solid, Anaheim Convention Center is right next to Disneyland Resort, and Star Wars: Galaxy's Edge is set to open sometime in 2019. My hope was that Star Wars Celebration would take place near the opening of the new land. It turns out that I wasn't even close.
The dates for Star Wars Celebration are April 11-15, 2019. That is an unprecedented length, the last Celebration was four days. It is going to be held in Chicago, IL, at McCormick Place. Tickets will go on sale on June 5, 2018.
Star Wars Celebration is a lot of fun and really frustrating at the same time. Last year was the first time that I attended. It wasn't well organized, and they tended to herd people as if they were cattle. It was understaffed, and they were unprepared for the security line the first day.
That said, there were great things that happened at Star Wars Celebration. It was where the trailer for The Last Jedi was introduced. With Episode IX coming out in December, 2019, there is a good chance that something similar will take place next year. There are plenty of celebrities across all of Star Wars who attend. You can purchase photo ops and autographs with the celebrities. This was where I crossed a huge item off of my bucket list and finally met Mark Hamill. Many of the top names attend each time.
There are panels throughout each day, but you need to wait in line for a wristband in order to attend the panel. Some of the panels are so popular that people will sleep in the convention center in order to get wristbands. There were overflow rooms for the major panels, and you still needed a wristband for that. Last time we were limited to two wristbands a day.
My favorite part of Star Wars Celebration, besides meeting Mark Hamill and getting a hug from him, was meeting other fans. The cosplay is fantastic, and Tricia and I took lots of pictures with people. There's a whole floor filled with exhibitors, and there's even a tattoo area. It was fun to be in an atmosphere where people of all ages share a love of Star Wars.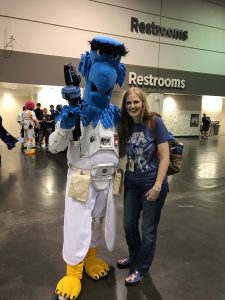 There is one question that comes up with the choice of Chicago for the next Star Wars Celebration. What does that say about the opening of the two Star Wars: Galaxy's Edge lands? It has already been announced that the Disneyland version will open before the one at Walt Disney World. D23 Expo is going to take place in Anaheim in August, 2019, I wonder if they now hope to have things in place for that. As soon as I hear something I will let you know.