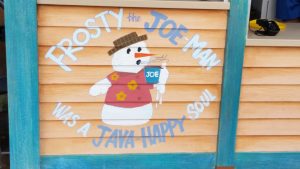 Chairlift must be 32 inches or taller
This is the easiest way to get to the top of Mount Gushmore. From the Chairlift you can access Summit Plummet, Slush Gusher, and Teamboat Springs.
Cross Country Creek
A 3,000 foot lazy river. Tubes are included with park admission.
Downhill Double Dipper must be 48 inches or taller
Race others to the bottom in single rider tubes. Part of the race is in the dark.
Melt-Away Bay
This is the wave pool at Blizzard Beach. It's much less intense than the one at Typhoon Lagoon, with gentler waves.
Runoff Rapids
Three different single rider tube slides. The one in the middle is enclosed until the end, the outside slides are open.
Ski Patrol Training Camp
Designed with older kids and teens in mind, this is a water play area for all ages. Guests must be 60 inches or under in order to try Fahrenheit Drops. There are balancing obstacles, smaller slides, and other activities.
Slush Gusher must be 48 inches or taller
A 90 foot body slide with two hills and dips. It's not quite as intense as Summit Plummet, but Slush Gusher is not for the faint of heart.
Snow Stormers
Three flumes where riders lie on their stomachs on mats and travel headfirst to the bottom. Each flume is 350 feet long.
Summit Plummet must be 48 inches or taller
Possibly the biggest adrenaline rush at Walt Disney World, Summit Plummet lasts only a few seconds. Guests drop nearly straight down 120 feet on this body slide. A digital clock displays the rider's speed, which often reaches nearly 60 miles per hour.
Teamboat Springs
One of the longest white water rafting rides in the world, Teamboat Springs allows up to six guests the chance to experience twists and turns. Ride the Chairlift to the top.
Tike's Peak must be 48 inches or under
A water play area for the kids. There are several different activities, including slides and "ice" sculptures.
Toboggan Racers
Guests lie on their stomachs on a toboggan-style mat and head down 250 feet. There are three dips along the way, and eight guests ride at once and race each other.