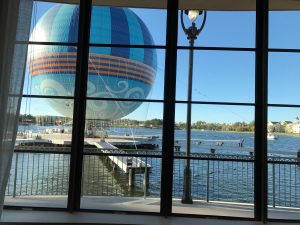 If you don't know much about Walt Disney World, you are most likely confused about what Disney Springs is all about. Is it a fifth theme park? What is the cost to get in? How much is parking? What do you do there? How is Disney Springs different from Downtown Disney? Let's try to take some of the confusion out of Disney Springs.
Disney Springs is often called a shopping, dining, and entertainment district. It used to be called Downtown Disney, but the area was reimagined and in 2015 it became the "town" of Disney Springs. There is no cost to enter Disney Springs, and you can also park for free. There are two parking garages, or you can grab a surface space. Valet is available for an additional fee. Disney Springs is not a theme park, but there is still plenty to do. There are four areas in Disney Springs. Make sure you explore them all, because you don't want to miss anything.
West Side
On the far side of Disney Springs you'll find West Side. You might notice some construction, because this is where The NBA Experience is soon going to be. Currently you'll find a 24 screen movie theater, bowling, live concerts, and more. You can also take a ride in a tethered balloon. As far as food there's Cuban, Southern, BBQ, ice cream, pretzels, and a unique Starbucks. If you're looking to shop there's running apparel, Star Wars merchandise, soccer accessories, and even personalized TOMS shoes.
The Landing
If you leave West Side and walk near the water, you'll find yourself in the area known as The Landing. This is home to some signature dining experiences, such as STK Orlando, Morimoto Asia, The Edison, and The BOATHOUSE: Great Food, Waterfront Dining, Dream Boats (that's the full name). Also at The BOATHOUSE you can ride in an Amphicar, which goes on both land and water. Other dining experiences include authentic Irish foods, hometown favorites, Italian, and vegan baked goods. There are a number of small kiosk-type shopping spots, as well as some slightly larger places.
Town Center
If you leave West Side but don't head towards the water, you'll end up in Town Center. It runs mostly parallel to The Landing. In Town Center you'll find the Disney Springs Welcome Center. Town Center is a premier shopping destination, with names that you'll recognize such as Anthropologie, Mac Cosmetics, Vera Bradley, Pandora Jewelry, and even Harley Davidson. For food you can enjoy pizza, burgers, Mexican, cupcakes, and more. Town Center is worth a stop just to see the architecture and the springs.
Marketplace
On the other end of Disney Springs you'll find Marketplace. This section has more of a "Disney feel" than the rest of Disney Springs. That's because you'll find World of Disney here, which is the largest Disney character store on the planet. Other stores with a Disney feel include The LEGO Store and Once Upon a Toy. Marketplace has a train and a carousal for the little ones, and Star Wars: Secrets of the Empire by ILMxLAB and The VOID for everyone else. For food and drink you can find sandwiches, margaritas, "snow", and a great combination of chocolate and ice cream.