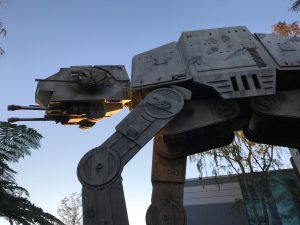 Disney's Hollywood Studios is a park that currently celebrates the Golden Age of Hollywood. That could change in the near future, because two new lands are opening soon. Toy Story Land is scheduled to open on June 30, and it will give guests a chance to shrink down to the size of a toy and explore Andy's backyard. The much anticipated Star Wars: Galaxy's Edge will open sometime in 2019. We'll keep you up to date here at Disney Over 50.
At the moment there are six lands at Disney's Hollywood Studios. It was the third park to open, and it is also the smallest of the four Walt Disney World theme parks. The size and the construction walls make it feel crowded. Once the two new lands open, the park will expand in size but it will also draw more people. Here is what you need to know now about Disney's Hollywood Studios.
Hollywood Boulevard
When you enter the park you'll find yourself on Hollywood Boulevard. It's mostly shops here, plus you'll find The Trolley Car Cafe, which is a Starbucks. At the end of Hollywood Boulevard is a replica of Grauman's Chinese Theatre in California. That will house Mickey and Minnie's Runaway Railway, which is supposed to open in 2019. The Hollywood Brown Derby restaurant is also on Hollywood Boulevard.
Sunset Boulevard
Many people will turn right from Hollywood Boulevard. That is because the land is home to two of the biggest thrill rides at Walt Disney World, The Twilight Zone Tower of Terror and Rock 'n' Roller Coaster Starring Aerosmith. Sunset Boulevard is also home to a couple of shows and some quick service dining opportunities.
Animation Courtyard
The second left from Hollywood Boulevard will lead you to Animation Courtyard. Immediately you'll find a show based on The Little Mermaid. Keep walking, and you'll end up at Star Wars Launch Bay. It features replica props and costumes from the Star Wars franchise, among other things. If you're looking for characters you'll find Star Wars characters inside Launch Bay, and Disney Junior characters outside on the side. If you're visiting with little ones they will want to see Disney Junior – Live on Stage!, which is also located in Animation Courtyard.
Pixar Place
Pixar Place is tiny, but chances are that you will spend some time here. The main attraction is the ride Toy Story Mania!. There are also characters, and you can grab a quick snack. Toy Story Land will be located on the land behind Pixar Place, so chances are that this land will become part of the new area.
Commissary Lane
Another small land is Commissary Lane. It's located to the left of the Chinese Theatre. Here you'll find a counter service restaurant that has plenty of indoor seating, and a couple of character meet and greets. A family friendly full service restaurant is here as well.
Grand Avenue
On the other side of Commissary Lane is Grand Avenue. This is based on a location in downtown Los Angeles. The main draw here is Muppet*Vision 3D, a dated but fun movie. You can also find pizza and a couple of other places to eat or grab a drink. The future entrance to Star Wars: Galaxy's Edge is in the area.
Echo Lake
If you turn left upon entering the park, you'll hit Echo Lake. You can't miss it, there's a giant dinosaur in the lake. (Her name is Gertie, and she's an ice cream stand.) Echo Lake is home to Star Tours – The Adventures Continue. There are also shows based on popular movies, and some great dining options.