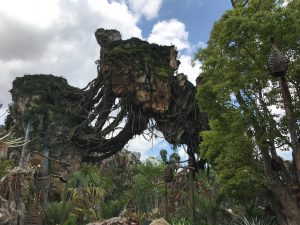 The fourth theme park to be added at Walt Disney World was Disney's Animal Kingdom. Area-wise, it is the largest theme park in the world. A good part of that land is used so that the animals have plenty of space to roam freely. There are several trails that are made for animal viewing. While Disney's Animal Kingdom is part zoo, it is also very much an amusement park. The Tree of Life is the central icon. Inside the tree is a 3D movie, and there is a projection show on it in the evenings. There are seven lands in the park, and it is home to some of Walt Disney World's biggest thrills.
Oasis
After you pass through the turnstile you'll find yourself in the land known as Oasis. There are a couple of places where you might be able to see animals here. Most people do not spend a lot of time in this area.
Discovery Island
Cross the river from Oasis and you'll see the Tree of Life off in the distance. That's how you'll know that you've made it to Discovery Island. If you plan to see It's Tough to Be a Bug!, you'll find the entrance here. There are also animal trails, plenty of shopping, and some quick food options. Tiffins, the park's only signature restaurant, is located on the edge of Discovery Island.
Pandora – The World of Avatar
A little bit after you walk past Tiffins you will find yourself in Pandora – The World of Avatar. It's based on the James Cameron hit movie, but you don't need to know the story in order to enjoy this land. It opened in May, 2017, and has been pleasing crowds ever since. Pandora is positioned so that you can't see any other aspect of Disney's Animal Kingdom once you enter, not even the Tree of Life. The crown jewel of Pandora is Avatar Flight of Passage, which is currently the most popular ride at Walt Disney World. There's a family boat ride, a store, and a counter service restaurant that has received countless rave reviews. Pandora – The World of Avatar needs to be seen both during the day and then again after dark. The entire area changes once the sun goes down.
Africa
In Africa you'll visit the fictional town of Harambe. There's a pathway to Africa from Pandora, or you can get there by bearing left from Discovery Island. If you want to see animals there are plenty in Africa. Hit the trails, or head out on Kilimanjaro Safaris. The 18 minute ride will take you out onto the 110 acre Harambe Wildlife Reserve. Once you've returned, you might want to enjoy Festival of the Lion King. In Africa you can also find character dining, cold drinks, and healthy snacks.
Rafiki's Planet Watch
In order to get to Rafiki's Planet Watch, you'll need to take a train from the station in Africa. Once you arrive, you'll find animal exhibits and a petting zoo. On the Disney's Animal Kingdom map Rafiki's Planet Watch is listed under Africa, but on the Walt Disney World website it is still listed as a separate land. Once you're ready to return, you'll ride the train back to Africa.
Asia
You can't miss the mountain that is visible from the parking lot and several places in the park. That's home to Expedition Everest – Legend of the Forbidden Mountain. It's one of the best thrill rides that Walt Disney World has to offer. If you instead need to cool off, you can ride the rapids. There are also more chances to see animals. If you're looking for the FastPass+ entrance to Rivers of Light, it's located in Asia. There are also several dining options.
DinoLand U.S.A.
DinoLand U.S.A. has a carnival feel to it. There are games to play where you can win a prize. Finding Nemo – The Musical is on the edge, and it feels a little bit out of place. There are two rides and some character opportunities in the land. If you want to see Rivers of Light but don't have FastPass+, the standby line starts here. DinoLand U.S.A. also has several places where you can grab a bite to eat.