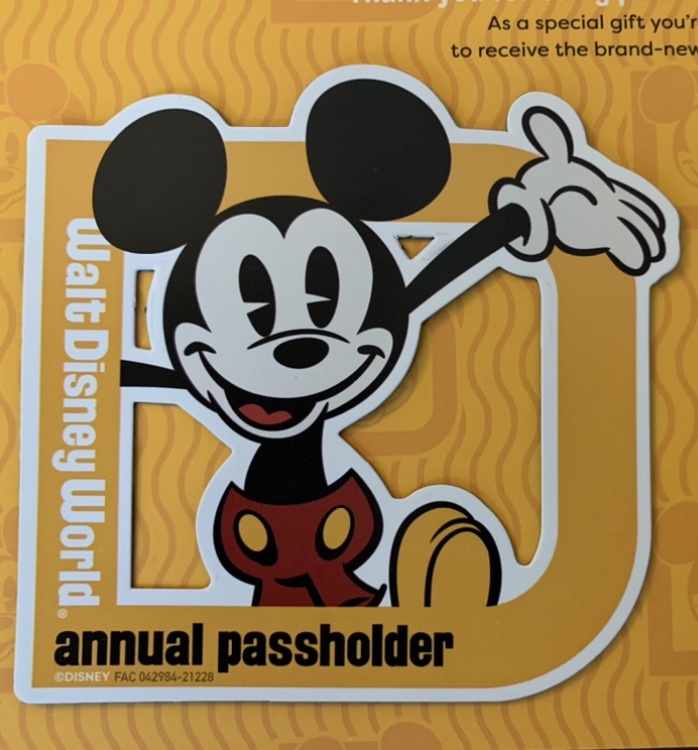 Since there are a lot of brand new Annual Passholders these days, I thought that I'd write up a quick rundown of what you can expect as an Annual Passholder. I will probably leave something out, so if you realize that I missed something important please feel free to drop me a line.
First a piece of advice. Make sure that you have it set so that you allow emails in your My Disney Experience Account. If you have that turned off, you won't receive important information such as registration for a special preview or event. Some people never seem to get emails, even when they have allowed them. If that happens to you, you might want to contact Disney.
There are sometimes extras that come with being an Annual Passholder. There could be a ride preview that you need to register for, which is why the emails are so important. There were previews for New Fantasyland, Pandora, and Galaxy's Edge before they opened. Toy Story Land didn't have a preview, but instead offered an extra hour on select mornings after the land had already opened. Passholders could sign up for a preview to ride Remy's Ratatouille Adventure. Before the closure, there were Passholder VIP events a few times. These extras are not guaranteed, and they are first come, first served. Some events were limited to the upper Passholder levels. There's no word on if there will be more previews offered, but with Tron and Cosmic Rewind both on the horizon we can keep our fingers crossed. If there is an event, you need to sign up immediately after getting the email. Spots go fast, and once they are gone registration will not open again.
Annual Passholder magnets have become a bit of a big deal. A generic one should be sent a few weeks after signing up or renewing. From time to time there have been additional magnets offered. It used to be that you had to go to a park to pick yours up, but lately they have been mailing them out. I would advise you to not put the magnet on your car, there's a good chance that it will be stolen. If you hear of other people getting their magnets and you didn't get yours, contact Disney.
What about discounts? Annual Passholders receive a discount of up to 20 percent at most Walt Disney World stores. One thing that you need to remember is that not all stores on Walt Disney World property are owned by Disney, which is why some will not offer a discount. Always ask when making a purchase. There are also some items that are Passholder exclusives. The price on the item's tag is full price, it does not show your discount. The discount will be applied when you checkout.
Restaurants are a bit trickier. Most counter service locations do not offer an Annual Passholder discount. There are a few exceptions, such as Erin McKenna's at Disney Springs and the Joffrey's kiosks. If a restaurant offers Mobile Ordering, there won't be a discount. Many full service restaurants do offer a discount, it's usually ten percent. Some restaurants, such as Tokyo Dining, only offer the discount at lunch or certain days of the week. There are some restaurants that are not owned by Disney that still offer discounts, Disney worked out deals with them. Again, always ask.
There are also other discounts that Annual Passholders can receive. These include certain entertainment options, special events, and things that are sports related. I'm not going to list them here. The best place to see discounts is on the Passholder Discount page. You can sort it by location and what you are looking for a discount on.
Theme park parking is free for Annual Passholders, no matter what level of pass you have. If your pass is still under the old program and you are Gold or Platinum, your PhotoPass downloads are included. New Passholders and those renewing since the new program rolled out need to pay an additional $99 for pictures. There is also a Water Park and Sports option for an additional $99 per ticket.
Hotel discounts are hit or miss. There are deals during the slower times of the year, but don't expect to get a great deal on Christmas Eve! There are no discounts on theme park tickets for friends.
If you have an Annual Pass but don't have an updated Annual Passholder card, head to Guest Relations. For food or merchandise discounts you'll need to show the card, you can't just scan your MagicBand. In a pinch the CM might allow you to show your pass on the My Disney Experience app, but it's better to just have your card ready. Make sure it's the current one, people are checking dates.
The main benefit of being an Annual Passholder is being able to visit the parks over and over again. The merchandise and dining discounts are nice, but that isn't what makes it worth it for me. While it's true that I'm upset about the recent changes (when I renew it's going to cost me over $500 more for my family), I will still renew. I love being a Walt Disney World Annual Passholder.