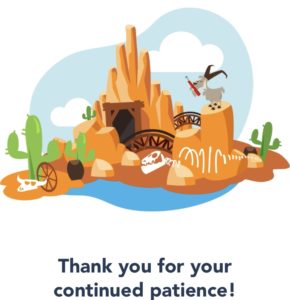 Yesterday the email link went out to most Annual Passholders about the previews for Remy's Ratatouille Adventure. The rollout wasn't without problems. After waiting for 45 minutes the website wouldn't accept my information. I got kicked out so I started again in a private browser (which I should have done to begin with) and was able to make my reservation. There were plenty of dates and times available, and I know that there were people able to make reservations hours later. If you are an Annual Passholder, I hope you were able to grab your spot!
There is one bit of misinformation that is going around that I would like to clear up. You do not need to use one of your three Disney Park Pass reservations the day of your preview. It's almost as if we are getting a bonus day! This is directly from the confirmation email that I received:
Annual Passholders will not need to make a separate Theme Park reservation to enter EPCOT on the day of their preview. A Theme Park reservation for their registered preview date will be added to their My Disney Experience account and appear under "My Plans" within 72 hours of their registered preview date.
It's easy to check your plans. You can find the information on the My Disney Experience App as well as on your account online. On the App go to the three lines in the bottom right corner to get to My Plans. Online, just go to My Disney Experience in the top right corner. Give Disney time to add the reservation to your account. I know that people will start to panic a week ahead of their reservations. If it isn't there 48 hours before, then contact Disney.
Your pass does need to be active in order to attend. I know that sounds obvious but you'd be surprised how many people were trying to make a reservation yesterday with a pass that would expire before the date!
There were some people who were not having everyone on their account show up, even though they all have active Annual Passes. If that happened in your case, contact Disney. I'd try the chat feature of the My Disney Experience App, because wait times for the phone lines have been crazy long lately. The registration was glitchy, and Disney will try to work with you to fix things. I've heard that there are still some problems.
I know that there are some people who never get the emails. I haven't had this issue, but I've heard some advice that might help if you do. First, you need to make sure that you have your account set to receive emails. Then, change the email address associated with your account. You can change it back right away if that is easiest for you. I don't know if that will work or not, but it's worth a try.
Whenever there is something going on where a lot of people will sign onto the Walt Disney World website at once there will be problems. Who am I kidding, there are problems with all of the Disney websites if there are only a few people logging on. The next time there's something special, pack your patience, and use a private browser. That could be your best chance of success.