On July 20, my daughter and I returned to EPCOT. We had already been to the other three Walt Disney World theme parks, and I will admit that I was a little bit worried about this one. I had heard that there were some problems when the park reopened, and I was concerned about the modified version of the Food & Wine Festival. After all, the festivals draw large crowds, especially in the evenings, and EPCOT is staying open the latest. There was no reason for me to be apprehensive, Disney has it all under control.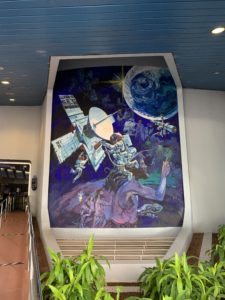 We arrived in the early afternoon, and walked right onto Spaceship Earth. I had thought that we would never ride the current version again, but the refurbishment has been put on hold. For some reason it seemed darker than normal, and the narration was quieter than before. I don't know if this was a change or if things were just off for some reason. We still enjoyed the ride. Project Tomorrow was all turned off, as were the interactive areas in other parts of the park.
Wait Times were short throughout the day. The longest that we experienced was for Test Track. It was posted as 40 minutes, but we were off the ride in 20. We had the car to ourselves, and we had an entire section to ourselves on Soarin'. Like Star Tours at Disney's Hollywood Studios, Soarin' has physical barriers on some seats to keep people apart. Back to Test Track for a moment. You don't currently design a car, that area has become part of the queue. There were some kids still touching the screens, which in this day and age kind of grossed me out.
I had seen videos of Winnie the Pooh trying to catch butterflies at EPCOT, but I wasn't sure exactly where these were taken. We talked to a wonderful Cast Member named Shelby, who took us to the exact spot. It's near the Imagination Pavilion, in the grassy area to the right. Joy also appears there, but we didn't see her. I miss the traditional meet and greets, but honestly watching Pooh with a butterfly net was one of the best things that I've seen at Walt Disney World! When I talk about Disney being for the child in all of us, this is what I mean. I have a lifelong love of Winnie the Pooh, I still have the stuffed "Pooh Bear" that was my constant companion as a child. I could have watched this all day.
Like the other parks, EPCOT has Character Cavalcades throughout the day. These travel around World Showcase. There are markers on the side in some places so that groups will not stand too close to each other. One thing that I like about the Character Cavalcades is the characters really try to interact with people as they go by. They will wave and acknowledge specific people, it isn't just a general drive by.
We stopped by The EPCOT Experience (which is why I called this "Our EPCOT Experience", I have a thing about bad puns) because I had heard that it had been updated. The parts about reimagining Spaceship Earth and adding Cherry Tree Lane are now gone. I really enjoy this presentation. If you haven't seen it yet, I livestreamed it on the Disney Over 50 Facebook page.
The thing that I was most worried about at EPCOT was people taking advantage of the Food & Wine Festival and walking around carrying food plates or drinks with their masks off. (I've seen groups at Disney Springs where one person had a drink and everyone had their masks off.) This was not an issue at all. Disney has updated the mask policy to state, "Face coverings are to be worn at all times except when actively eating or drinking while stationary and physically distanced". Not only were there plenty of signs stating that in World Showcase, there were also Cast Members walking around, holding placards that said so. We didn't see anyone try to get away with it.
We watched part of the shows of both the JAMMitors and Mariachi Cobre. They're both performing in the America Gardens Theater. This was nice, we were able to sit down away from others and enjoy the large cups of ice water that we picked up at Refreshment Outpost.
I was finally able to eat at Regal Eagle Smokehouse. We had plans to dine there in March but then the closure happened. I loved it. We used Mobile Ordering, and it took quite a while for our food to be prepared. That was the only downside. The Cast Members were fantastic. There are four different sauces, and we were offered all four. The restaurant has a vague Muppet theme, but you probably wouldn't even notice if you didn't know that already. We will be returning, this is a great quick service option.
If it wasn't for some Global Marketplaces and a few decorations, I wouldn't have known that there was a festival taking place. It is really downplayed this time. We were able to grab another Disney Park Pass reservation for tomorrow, so we're going to go back with the intention of experiencing the festival.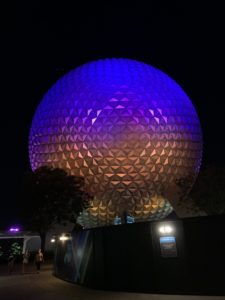 I didn't realize how much I missed EPCOT. It's the only park that is open after sunset right now, and seeing Spaceship Earth at night is always a beautiful sight. It was good to be back. Since EPCOT seems to be the easiest park for Annual Passholders to get a reservation for right now I have a feeling that it will be my go-to park for a while. Disney's Hollywood Studios always was, but right now it has limited availability.