I was part of a media group that was allowed to ride the Disney Skyliner a couple of days early.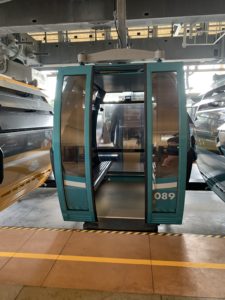 I thought that here I would touch on a few of the highlights of the new transportation system, and give a couple of extra thoughts. I'll deal with the major concern first. No, the Disney Skyliner is not hot without air conditioning. The windows are tinted, so that blocks the sun somewhat, and there is a nice breeze from the crossflow of the air. I know we didn't ride in July, but this was a hot September day. We were all comfortable.
Even though the name of this blog is Disney Over 50, I try to give information that people of all ages can use. That said, I do realize that sometimes there are issues that those of the next generation might not quite understand. I've had people write to me in the past about scooters. They will not be a problem on the Disney Skyliner. You will not have to get off of your scooter, you can ride your scooter right into the gondola. (The same is true for wheelchairs and strollers.) I won't go into the details (I touched on it a bit in the Disney Dining article), I'll just tell you that Disney planned this one out very well.
The views from the Disney Skyliner are a big part of the thrill. You'll see Walt Disney World from a totally different perspective! Taking the perfect picture is a bit difficult, though, since the inside is very reflective. My dear friend Cindy from DisneyLists.com came up with a solution for that one. She held her phone's camera right against the glass so that there was nothing for it to reflect. You're going to want to take pictures, so keep this trick in mind. It works.
A lot of the Cast Members have ridden, and I love talking to them about their experiences. Based on several conversations I recommend trying to ride the Disney Skyliner when the sun is setting, or during the nightly fireworks. Happily Ever After will be way off in the distance, but the fireworks from Epcot and Disney's Hollywood Studios will be a lot closer. This is something that I hope to experience myself in the near future.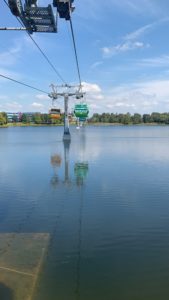 There are three lines for the Disney Skyliner. My favorite was the one that runs from Disney's Caribbean Beach Resort to Art of Animation and Pop Century. The latter two share a station. You'll glide over Hourglass Lake, and with a little bit of luck you will see the reflection of the gondolas in the water. For some reason that line seemed to be a bit faster than the other two, but that was probably my imagination.
I'm a bit of a chicken when it comes to rides, but this wasn't scary at all. You never feel as if you are dropping, and although the gondolas move at a decent pace you do not feel like you are traveling overly fast. If you are extremely prone to motion sickness, you might want to be careful. None of the three lines last all that long. I think that the longest ride was less than ten minutes. The gondolas themselves are comfortable to sit in. There are wooden benches, and each one holds up to ten people. I rode both forwards and backwards, and there didn't seem to be a difference as far as how the ride felt.
My first experience on the Disney Skyliner was fantastic. Other people have told me how much they have enjoyed the new transportation system as well. I would love to hear your thoughts when you first ride. Contact me on Facebook, Instagram, or you can email me. I am sure that you will love the Disney Skyliner as much as I already do.