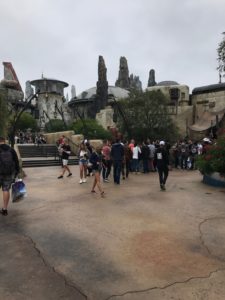 I just read an article from a major news organization that I will not name. It said straight out that Star Wars: Galaxy's Edge is a failure. The article said that the lower attendance at both Disneyland and Walt Disney World proved it. The article went on to say that Galaxy's Edge was a flop. I could not believe what I was reading. How could a land that is not yet even open be a failure?
I have said for months that attendance numbers were going to be down this summer at Walt Disney World. There were signs, such as special deals, that Disney agreed. So far, it looks like that has been the case. The parks have been a bit less crowded. I think that points to the success of Galaxy's Edge, not the failure. People are waiting to visit until the new land opens.
The first few months are still not going to be a good way to gauge the success of Galaxy's Edge. I know people who have put off a visit because they do not want to see massive crowds. Others are waiting until Star Wars: Rise of the Resistance is open. That will happen on December 5 here in Florida, and January 17 in California.
I honestly think that the first real test of whether Galaxy's Edge is a success or a failure will be next summer. For many people, the timing didn't work this year. They now have a whole year to plan and to save, and next summer both rides will be open.
I know that there are some people who will think that because I love both Star Wars and Walt Disney World that I'm not going to say anything bad about it. That isn't true at all. Those who know me would tell you that if I don't like something, I will just stay quiet. I have been anything but quiet about Galaxy's Edge. I love the new land in California, and I can't wait until the Florida version opens. I have no doubt in my mind that Galaxy's Edge is going to be extremely successful on both coasts. Don't ever underestimate Star Wars fans…